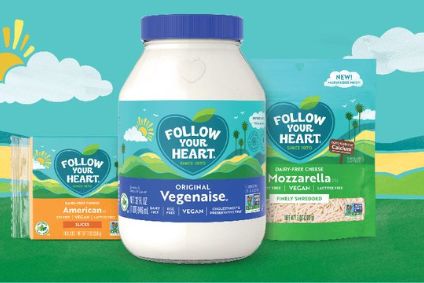 French dairy giant Danone has acquired Earth Island, a plant-based business in the US present in cheese alternatives and spreads.
The deal, struck for an undisclosed sum, sees the Alpro and Activia brands owner acquire 100% of the shares of the business, which is also known as Follow Your Heart.
The US firm, founded in 1988 and based in Canoga Park, California, competes in the plant-based cheese and mayonnaise categories with brands such as Follow Your Heart and Vegenaise.
Danone said in a statement: "Follow Your Heart will be able to accelerate growth nationally and internationally alongside some of Danone's best-known plant-based brands, including Alpro, Silk and So Delicious Dairy Free.
"This partnership will enable Danone to enhance and expand its plant-based offering, including cheese, while contributing to its goal of increasing plant-based sales worldwide from more than EUR2bn (US$2.42bn) in 2020 to EUR5bn by 2025."
In a Tweet this morning (19 February), Danone chairman and CEO Emmanuel Faber said: "Thrilled to announce the acquisition of Follow Your Heart, opening for Danone a strong foothold into the promising flexitarian trend in the US cheese market. This is building further on our global leadership on plant-based, now representing 10% of our sales."
The deal announcement came alongside Danone reporting its Q4 and full-year 2020 results.
The company, which has come under pressure from some investors of late who are urging structural change and a portfolio-shake up to boost returns, suggested 2021 would be a year of recovery with sales back to growth from the second quarter and a return to profitable growth in the second half.
Its 2020 sales were down 6.6% year-on-year at EUR23.62bn, while net income rose 1.4% to EUR1.95bn.