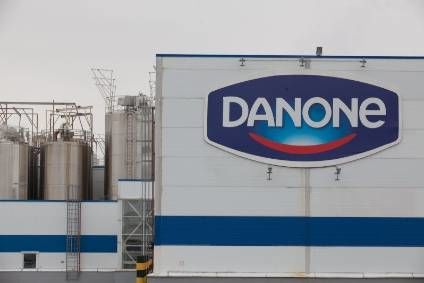 Danone is set to shake up its board of directors, the latest in a series of governance changes at the French dairy giant.
The Activia and Alpro owner said the "overhaul" of its board would see the number of directors cut from 13 to 12, including incoming CEO Antoine de Saint-Affrique.
All current directors, bar chairman Gilles Schnepp and two representing Danone employees, decided not to seek to extend their tenures after they are due to elapse in 2022 and 2023. New directors will be elected at shareholder meetings in each of those years.
The changes to Danone's board follow the end to one person simultaneously holding the positions of chairman and CEO – and to the departure from the helm of Emmanuel Faber, who until March had both jobs.
Danone had been under pressure from a group of shareholders to split the roles of chairman and CEO, while there had been some calls for Faber to leave the business entirely.
An initial move saw Danone announce Faber would stand down as its CEO but stay on as its new non-executive chairman. That did not stem the criticism and, two weeks later, Danone's board decided Faber should leave his role as chairman.
Schnepp, Danone's current chair, said today (29 July) "the major evolutions" to the company's board had been decided by the directors "in a collegial and responsible way".
He added: "This board of directors demonstrated its commitment and ability to take decisions in the sole interest of the company. The overhaul of Danone's board of directors will be completed in several stages by 2023, allowing the candidates to prepare for their future responsibilities as directors while enabling for an orderly transition.
"From here on, we will focus on the next step of Danone's governance evolution with two objectives: on the one hand, recruit new talent with strong international experience and sectorial expertise while ensuring the diversity and independence of the board of directors; and on the other, clarify the working principles of the board of directors within the new framework of separated governance."
One director who is to stand down is Franck Riboud, Danone's chairman and CEO before Faber was promoted.
He said: "I am happy that a new cycle is beginning for Danone and the board. My only aspiration remains to serve Danone as well as possible and to strongly support Antoine de Saint-Affrique in his work to put Danone back on its growth path.
"I, for certain, will obviously be keen to continue to assume the role of honorary president as it is envisaged at Danone. It will allow me, with a caring yet demanding perspective of the company and its teams, to continue to actively promote the vision and the managerial and entrepreneurial culture of this unique group. The very ones that have built the success of Danone for so many years."
The board announcement came alongside the publication of Danone's second-quarter and first-half financial results.
Danone's sales rose 6.6% on a like-for-like basis in this second quarter, which pushed the metric into positive territory over the first half of the year after a decline in the opening three months of 2021.
"We are pleased to report a return to growth across all our categories this quarter, thanks to the teams' commitment and focus on execution and delivery," Véronique Penchienati-Bosetta and Shane Grant, Danone's interim co-CEOs ahead of de Saint-Affrique joining the business this autumn, said in a joint statement. "On a two-year basis, our like-for-like sales growth is also positive, on both Q2 and H1."
For the first six months of the year, Danone's like-for-like sales were up 1.1%. On a reported basis, sales fell 2.9% to EUR11.84bn (US$14.05bn), which the Silk owner said was mainly due to exchange rates.
Restructuring costs weighed on profits, with operating income down 46.1% at EUR851m. Danone said its "recurring" operating income declined 8.9% to EUR1.55bn. The company pointed to the impact of higher input costs and "a negative category mix".
Reported net income was up 5.2% at EUR1.07bn but down 9.1% on a recurring basis at EUR1bn amid lower earnings from shareholdings in Yakult and Mengniu, which Danone sold in recent months.
Danone's shares, which tumbled in 2020 amid concerns over its performance, have gained ground so far this year. At 09:15 CEST today, they were up 4.93% on the day at EUR59.85.