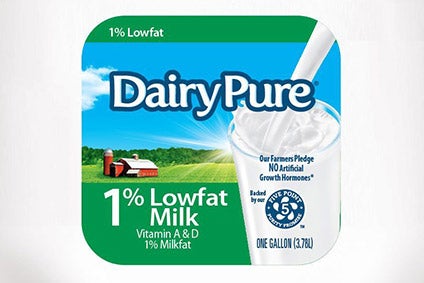 Dean Foods, the US-based dairy group, has reported a first-quarter loss on the back of higher milk costs and charges from changes to its manufacturing network, although it managed to grow sales.
The company posted a net loss of US$9.8m for the three months to 31 March, compared to a net profit of $39.2m a year earlier.
Dean Foods' operating income stood at $2.9m, down sharply from the $78.5m it generated in the first quarter of 2016.
The business saw its raw milk costs increase 18% from the first quarter of 2016. They were up 6% from the fourth quarter of last year.
It also booked more than $9m in "facility closing and reorganisation costs".
Dean Foods' net sales rose 6.2% to just short of $2bn. The company said its volume across all products was 633m gallons, a 1.3% decline on the first quarter of 2016.
CEO Ralph Scozzafava said: "Our first-quarter results across volume and earnings per share were in line with our expectations. Our commercial and cost productivity initiatives are ramping up, including the recent national launch of our new DairyPure sour cream. We are driving incremental distribution across our core portfolio of fluid products as well as expanding our footprint of our super-regional ice cream brands. In addition, we are enhancing our selling capabilities through a partnership with Acosta, a leading sales agency with extensive capability and expertise in products going through customer warehouses."
On Friday, Dean Foods announced it had acquired a minority stake in dairy-free upstart Good Karma Foods.
Good Karma, based in Boulder in Colorado, makes alternatives to dairy products using flax seed. In 2014, Good Karma secured financial backing from private-equity firm 2x Consumer Products Growth Partners, which at the time described its move as a "substantial minority investment" in the business. 2x Partners remains "lead investor", Dean Foods said today.