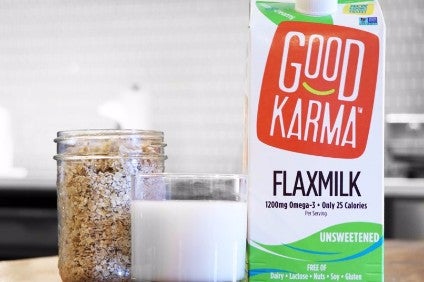 US dairy giant Dean Foods is increasing its stake in Good Karma Foods, which makes flaxseed-based milk and yogurt alternatives.
The Dallas-based company now has a majority stake in Boulder, Colorado-based Good Karma, a business in which it took an undisclosed minority stake back in May 2017.
Details of the financial sum involved in the latest transaction and the percentage stake Dean Foods now owns in the business have not been disclosed.
Good Karma makes plant-based, dairy-alternative food and beverage products including a flax-based milk alternative. Its products are free of all major allergens.
Ralph Scozzafava, CEO of Dean Foods, said: "Good Karma is a fast-growing brand that gets us back into the growing plant-based food and beverage category, making it an excellent addition to our portfolio.
"Our investment in Good Karma is just one example of how we are executing against one of the major pillars of our strategic plan, to build and buy strong brands.
"As majority owners, we look forward to working with Doug and his team to continue their strong momentum and support their growth agenda."
Doug Radi, CEO of Good Karma Foods, said: "We are thrilled about our continued partnership with the Dean Foods team.
"We believe this relationship validates that Good Karma is one of the leading and fastest-growing brands to watch in the plant-based category, and we are excited about how this partnership will advance our mission of inspiring goodness by making our plant-based, non-dairy beverages and yogurts more accessible across the US."
Good Karma will continue to operate as an independent company led by its existing leadership team.