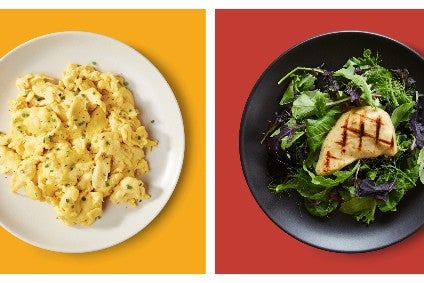 Eat Just, the plant-based egg and cell-cultured meat firm, has entered new markets after securing commercial deals in South Africa and South Korea.
Previously trading as Hampton Creek and Just, the San Francisco-headquartered business has partnered with plant-based foods distributor Infinite Foods in South Africa to launch its Just Egg products in retail and foodservice.
In South Korea, Eat Just has inked a deal with Paris Baguette, a bakery cafe franchise, and similar foodservice business Paris Croissant – both associated with partner food company SPC Samlip – ahead of a planned roll out in retail and an online in the Asian country.
The tie-up with Infinite Foods will see the US company's mung bean-based Just Egg Folded product appear on shelves of South African retailer Wellness Warehouse across the country, and in the out-of-home channel in Cape Town, Johannesburg and Durban with the likes of restaurant groups Lexi's, Jackson's and Great Cape Deli.
On the back of a US$200m funding round secured in March, Eat Just CEO and co-founder Josh Tetrick said: "We are grateful to our team of innovators who bring novel ideas to life that positively impact society and the environment, and Infinite Foods is the ideal partner for our expansion into this market. They bring invaluable expertise to reach the African consumer and have the value chain to support us in delivering this ground-breaking product to consumers at home and in restaurants."
Michelle Adelman, the founder and CEO of Infinite Foods, added: "We are excited about the opportunities this partnership creates as it speaks to Infinite Foods' ethos to create socio-economic sustainability, advance a plant-forward lifestyle, and leverage technology to bring great products to market.
"Eat Just is an innovative company on the forefront of food technology, making them an amazing partner to help Infinite Foods address the food security, health, and sustainability issues we face in Africa."
Founded in 2011, Eat Just's products are also available in restaurants and retail in Canada, and the out-of-home channel in China. Late last year, Singapore approved the sale of the company's cell-cultured 'chicken bites' in an unnamed restaurant after the city state gave the green light for the marketing of such products.
Eat Just has also previously entered manufacturing and distribution partnerships with South Korean food company SPC Samlip, Mexican bakery giant Grupo Bimbo, South-east Asian food company Betagro Group, Latin American oil and fat firm Alianza Team, and delivery platform Delivery Hero.
Other SPC-affiliated restaurants in South Korea that are featuring Eat Just products include Eggslut, Shake Shack, Dunkin' and Baskin Robbins.