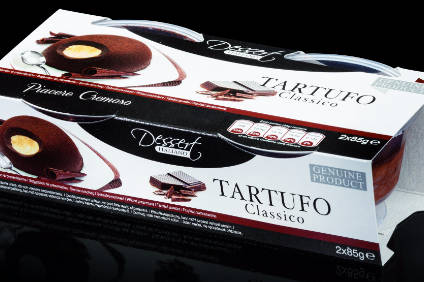 Swiss dairy giant Emmi said today (18 January) it had signed an agreement to buy Italian dessert manufacturer Italian Fresh Foods (IFF) for an undisclosed sum.
Emmi said the acquisition of Como-based IFF, a family-run international company that manufactures and markets Italian desserts under brands including Dolce Italia, will allow the Swiss firm to "strengthen its position in the dessert segment and reinforce its expertise in an attractive niche market".
The purchase of IFF will also boost Emmi in the Netherlands, US and Canada, where Emmi said it has "so far had little presence in desserts".
Emmi's CEO, Urs Riedener, said: "Italian Fresh Foods is an agile, innovative manufacturer of high-quality Italian desserts". "The product portfolio suits Emmi extremely well and strengthens a segment that is strategically important for the company."
Under the terms of the deal, which is still subject to approval by competition authorities, Emmi will keep IFF's production structure in Lasnigo. In addition, IFF founder and CEO Flavio Pok "will remain in charge of the company and continue to apply his skills to develop the company in future".
According to Emmi, IFF generates sales of almost EUR20m (US$21.3m), 85% of which comes from outside Italy. "The company has been characterised by a strong and constant growth in the last five years" with key markets being the Netherlands and the UK, Emmi said in a statement.
"IFF has an innovative spirit, a strong commitment to quality and state-of-the-art technologies," Emmi added. "These include handling convenience products, particularly small portions, and filling glass containers. These segments represent an innovative extension to Emmi's existing range of desserts."
The dessert segment is a key area of Emmi's product portfolio. Since the acquisition of Italian dessert specialists A-27 in 2011 and Rachelli in 2013, Emmi said it has "enjoyed a solid position in Italian speciality desserts".
MainFirst analyst Alain Oberhuber said there was "neither any profitability nor transaction multiple given" on the IFF deal. He added: "We assume that EBIT margin of IFF is around 10%. Emmi could have paid around CHF 26m for the company, which is around 10x EBITDA and slightly above the acquisition policy to pay 7-9x EBITDA for external growth. However, we believe that IFF fits nicely into Emmi's strategy to grow stronger in desserts. Desserts is one the four growth categories Emmi focuses on, besides premium cheese, milk drinks and yogurts."
The IFF deal comes just days after Emmi announced a further acquisition in the goat's milk sector with the purchase of US-based family-owned business Jackson-Mitchell, which is also known as Meyenberg.
The company first entered the goat's milk sector in 2010 with the acquisition of California-based Cypress Grove. It has since expanded its operations via M&A with the purchases of Redwood Hill Farm & Creamery in the US, Bettinehoeve and AVH Dairy in the Netherlands alongside Spanish firm Lácteos Caprinos.