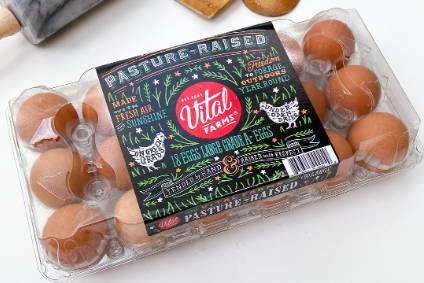 Vital Farms , a US-based producer of "ethical" eggs and butter, has filed a registration document with the US Securities and Exchange Commission to go public.
The Austin, Texas-headquartered business is seeking a listing on the Nasdaq exchange in New York, although the price range and number of shares to be offering to the public has yet to be determined.
However, Vital Farms said the "offering is subject to market conditions, and there can be no assurance as to whether or when the offering may be completed, or as to the actual size or terms of the offering".
Vital Farms said in the prospectus it will use the proceeds to increase its capitalisation and "financial flexibility", and possibly for M&A. It is also seeking to invest US$15m in its Egg Central Station plant.
It has employed the services of Goldman Sachs, Morgan Stanley and Credit Suisse as underwriters, with Jefferies, BMO Capital Markets and Stifel, Nicolaus & Co. acting as bookrunners for the proposed offering.
Vital Farms was founded in 2007 and is certified B Corp. The company distributes eggs nationwide across the US in more than 10,000 outlets and also produces ghee. It delivered $140.7m in revenues last year, with a net profit of $3.3m.
Last year, Vital Farms received an undisclosed a cash injection from private-equity firm Manna Tree Partners.