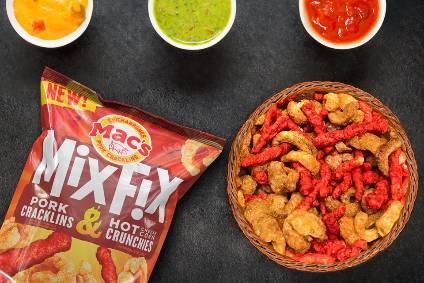 US pork rind manufacturer Evans Food Group has been sold by its private-equity owner Wind Point Partners to fellow investment firm Highlander Partners.
Highlander of Dallas, Texas, said in a statement it conducted the transaction through its newly-created food platform Benestar Brands, which is led by chief executive and president Carl Lee Jr., the former CEO of US snack brand Snyder's-Lance. He will also now oversee the operations of Evans Food.
Financial terms of the deal were not disclosed for Evans Food, which has five manufacturing facilities in the US and one in Mexico. The Chicago-headquartered company produces pork rinds for local and international markets, offering private-label and its own brands, including Mac's, Turkey Creek, Don Rudy, Cazo de Oro and Domingo's. It was bought by Wind Point in 2016.
Highlander CEO Jeff Hull said: "Highlander has experienced rapid growth over the past five years, with assets under management growing to over US$2bn. Our strategy has been focused on developing verticals that enhance our financial performance and provide appropriate risk-adjusted returns.
"Food and beverage has been a focus and specifically the better-for-you, salty snack category. We have developed a team to focus in this area and to identify outstanding opportunities to grow our presence in the food sector. We intend to make additional acquisitions around this strategy, both for Benestar and in other sectors of the food industry."
Also joining Benestar is Jose Prado as vice chairman. He was the previous chairman and CEO of Evans Food and also formerly held the position of president for Quaker Oats' North America division, the cereal brand owned by PepsiCo. Highlanders' Jeff Partridge will now serve as chairman of Benestar.
Evans Food is now an enlarged company following a spate of acquisitions. It snapped up pork rind rivals Turkey Greek Snacks in March and Gayton Foods in 2017.
Lee said: "I am extremely excited to have this opportunity to partner with Highlander and the Evans team. This business reminds me of Snyder's when I joined as CEO; a leading manufacturer and distributor in a fast-growing category focused on a shift toward better-for-you snacks. There is tremendous potential within Evans, and I look forward to implementing some of the strategies we used in the past to bring Evans' products and other snacks to more consumers across the US."