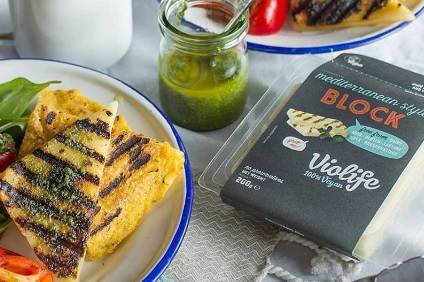 Plant-based spreads business Upfield Group has emerged as the buyer of vegan food brand Violife.
Amsterdam-headquartered Upfield, the company behind brands such as Flora and Becel, has acquired the owner of the Violife business, Greece-based company Arivia.
Sky News last week flagged unnamed sources as saying Upfield might be the front-runner to acquire Violife ahead of a number of interested parties from the investment community, with one of those sources putting the expected price tag around EUR500m (US$555.8m).
However, the value of the confirmed transaction was not disclosed by Upfield in a statement, which noted the deal should close within three months, subject to regulatory approvals.
Upfield emerged from the buyout of Unilever's spreads business by private-equity firm KKR in 2017 and consequently renamed. The company's portfolio also includes Country Crock, Rama and Blue Band.
Violife, located in Thessaloniki, manufactures plant-based cheeses and supplies the 'big four' UK retailers Tesco, Sainsbury's, Morrisons, and Asda, along with a host of other stores and foodservice channels.
"This strategic acquisition will enable Upfield to enter a new segment, presenting an additional growth opportunity for the company," the statement read. At the same time, it could present opportunities overseas given Arivia also has a presence in the US.
David Haines, the chief executive of Upfield, said: "This acquisition is aligned with our growth strategy and mission to be the global authority in plant-based foods. Consumers are increasingly demanding quality, natural and tasty alternatives to dairy products, and welcoming Arivia products into the Upfield family will enable us to go further in meeting those demands, whilst growing our plant-based offering."