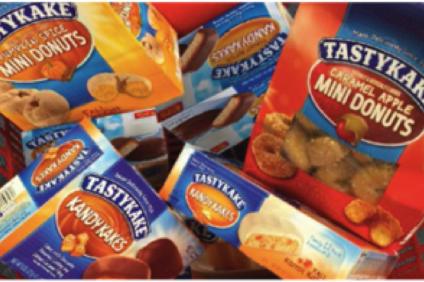 US-based bakery business Flowers Foods is making efforts to mitigate inflationary headwinds after again cutting its earnings guidance following a "challenging" third quarter characterised by a slide in volumes.
The owner of Dave's Killer Bread and Tastykake cakes continued to face inflationary pressures from commodities, wages and freight costs, which had forced the New York-listed firm to previously initiate price increases, the effects of which carried over into the third quarter and resulted in lower-than-expected sales.
While those pressures are not unique in the current operating environment in the US consumer-goods sector, Flowers Foods reported a drop in margins for the quarter and over the nine months, weighing on a key target of its five-year Project Centennial programme. The initiative is designed to realise cost-savings by streamlining operations, making strategic investments in new capabilities, "reinvigorating core brands", and extending the bakery portfolio through acquisitions.
Chief executive Allen Shiver said on a call with analysts after announcing the results this week that he was "not satisfied", reiterating comments made the previous quarter when the Georgia-based firm also lowered its guidance for adjusted earnings per share.
"Let me repeat that. We are not satisfied with our current results," the CEO emphasised. "But there is a transformation underway at Flowers Foods to enhance our shareholder returns. We recognise the challenges that are facing the food industry and we are executing on priorities that we are confident will drive sustainable, profitable growth and value creation."
And fast-forward to next year, Shiver added: "In finalising our 2019 plan, we will be conservative about consumption trends so that we can right-size our cost structure accordingly. In addition, we are taking pricing market-by-market as we manage rising production and distribution costs."
However, he said the company was on track to meet the top-end of its gross savings target of US$38m to $48m for the year, and had also boosted market share to what Shiver described as a "record" 16.3%, with brands such as Nature's Own, Dave's Killer Bread and Wonder gaining share.
He added Flowers Foods plans to exit low-margin businesses, but also invest in acquisitions, as demonstrated by its purchase of gluten-free frozen bread firm Canyon Bakehouse, also announced this week.
"Disciplined M&A is an important part of our strategy to grow in adjacencies", Shiver said. "With Canyon, we are well-positioned to gain share in the important and growing gluten-free segment. In some cases, to strategically exit low-margin or unprofitable business is appropriate. These actions are all designed to further our strategic aim to reorient the business around the higher-margin branded products."
Meanwhile, chief finance officer Steven Kinsey noted how Flowers Foods' previous pricing actions had offset the inflationary pressures somewhat, although the company will need to take further measures amid a "competitive marketplace" where inflation headwinds are expected to remain for the time being. The company expects $40m of input cost inflation for 2018, he added.
As sales dropped 1% during the third quarter – missing the year's goal of flat to up 1.6% – price increases hit volumes by a bigger 3.5%. Shiver said approximately 80% of the sales decline was driven by the non-retail category, notably the company's vending and foodservice businesses.
Adjusted EBITDA margins fell 140 basis points to 10.6%, and settled at 10.9% year-to-date, once again short of the 13-14% targeted under Project Centennial.
Flowers Foods also cut its full-year adjusted EPS outlook to US$0.90 to $0.95. In August, the guidance was lowered to $1.00 to $1.07, from an initial objective of $1.04 to $1.06.
During the Q&A session, the CFO was challenged by what an analyst called the "pattern of dumping guidance in the second half".
Kinsey responded: "One of the aspects of Project Centennial was working on capabilities and driving better capabilities internally. We did stand up a financial planning and analytics team in 2018 as part of Project Centennial, and the tools that we are implementing within that group should allow us to improve upon our forecasting ability going forward."
Still, the fourth quarter looks to be as equally as challenging, with Kinsey stressing the additional price actions that have been taken to try and head-off the inflationary effects
"The third quarter was probably one of the most significant down-volume quarters we've had in a long time and you continue to see the category decline as well," he said. "So, we are looking in 2019 at ways to try to mitigate some of those headwinds around overall volume and category decline as well."