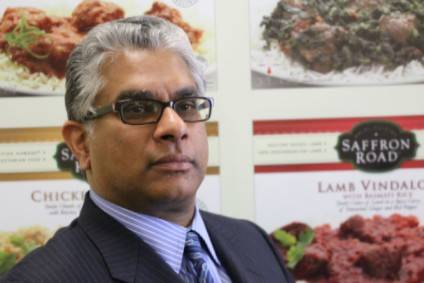 This week, Orkla pledged zero-deforestation by 2020. Elsewhere, United Biscuits opened its first e-commerce store in China. just-food spoke to CEO of American Halal Co., Adnan Durrani following the firm's recent acquisition in the plant-protein space and Givesco Bakery acquired cake maker Almondy. Here is the week in quotes.
"I mean Lean Cuisine lost $200m in sales last year. We don't take pleasure in that. It doesn't help the frozen foods business when Nestle is not doing well. But the reality is they bet the whole ranch on the baby boomer who was under recession in 2008/9 and pulling back whereas millennials were saying we want to know what's in our food, we are willing to pay more to find out, willing to work with brands we feel we can trust and who are dedicated to values around the food system" – Adnan Durrani, CEO at American Halal Co., talks of how the millennial consumer should be a greater consideration for the US food industry.
"Orkla will actively promote best practices for deforestation-free, sustainable production, and will implement measures adapted to the challenges and possibilities in each raw material chain. We require our suppliers to meet strict standards, and we monitor their adherence to these standards through dialogue and reporting requirements" – Norway's Orkla outlines its goal for zero-deforestation by 2020.
"Our recently acquired organic bread brands – Dave's Killer Bread and Alpine Valley Bread – are on-trend with changing consumer preferences and provide Flowers with additional growth opportunities through expanded distribution. We recognise the quality and values these brands represent, and a key focus as we bring the Flowers, DKB, and Alpine Valley teams together will be to maintain the integrity of their great brands" – Flowers Foods CEO Allen Shiver talks about integrating the company's recent purchases which he predicts will lift sales and earnings at the firm in the near-term.
"We believe the strong health and wellness credentials in dairy products, and especially in fresh milk, resonate with consumers. All together, we believe this is a great business to be in and one that creates a compelling operating and financial opportunity" – Gregg Tanner, CEO of Dean Foods, insists the US dairy sector is in good shape thanks to lower-priced milk "in terms of both cost and prices at retail".
"China is a very important market for United Biscuits, and we have high expectations of our flagship store on Tmall Global. McVitie's is an iconic British brand, and via our Tmall Global store, we are making the brand accessible to another 386m potential consumers across China, who all now have the opportunity to buy the Original McVitie's Digestives in British packaging, directly from the source," – Marcel Willems, regional general manager for United Biscuits in Greater China, on the company opening its flagship e-commerce store in China on Alibaba's Tmall Global platform.
"When I took over as CEO of Cloetta this summer, I said that my ambition was to continue on the profitable growth path driven by organic sales growth, continued cost-efficiencies and new initiatives, including potential acquisitions. I am therefore pleased to state that in my first quarter as CEO we were able to demonstrate both continued organic sales growth and the acquisition of Lonka" – Cloetta CEO David Nuutinen after the European confectioner reports an increase in sales and profits for the first nine months of the year.
"By viewing carbon as a cycle, we can not only reduce our emissions, but also offer solutions to promote carbon sequestration in soils, forests and mangroves through agricultural practices and ecosystem restoration activities that reduce greenhouse gas emissions. This approach demands continuous improvement to spark innovation and spread best practices. With hands-on pragmatism and small-scale experimentation, we can scale up tools to solve the complex climate change challenges within the food chain" – Pascal De Petrini, executive vice president for strategic resource cycles at Danone, comments on the group's commitment to cutting emissions by 50% between 2015 and 2030.
"Our supplier responsibility principles are clear as to our expectations of our suppliers, and the behaviour depicted in the undercover video is unacceptable. We are requiring this supplier to take the following actions immediately: further disciplinary action, additional animal welfare and handling training, enhanced compliance oversight, and increased third-party auditing" – Hormel Foods reacts to a video depicting animal cruelty at one of its supplier farms.
"The acquisition of Almondy is strategically important to us. The corporation complements our other businesses in a good way, thanks to its strong position in the Nordic countries and with its unique concept, which is just right in time. In addition to this, Almondy has many valuable partners who we will continue to develop businesses with. With this acquisition we are adding an entrepreneurial driven company, with a totally unique concept and a first class bakery plant, to our portfolio" – Kenneth Eskildsen, CEO at Denmark's Givesco Bakery, explains the group's acquisition of Swedish peer Almondy.
"The management is taking proactive and measured steps to pursue strategies that will not only maintain the Group's performance in the short term but also to build a sustainable future for the group. We believe our geographic and product portfolio position us well for future growth. Over the long term, we expect the consumption environment in our regional markets to be supported by the robust economies and the fast growing middle income class – Petra Foods CEO Jon Chuang reflects after the Singapore-based confectioner booked a slump in third-quarter sales and profits, hit by the economic slowdown in Indonesia, the company's largest market.