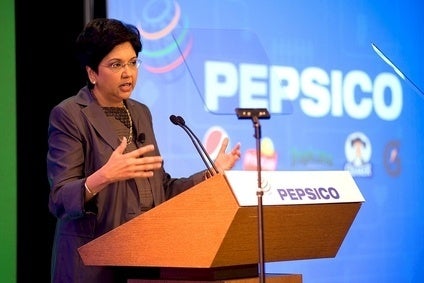 It was a week of numbers on just-food, with PepsiCo, Kellogg, Flowers and Kraft Foods Group all issuing a mixed bag of financial results. We were also present at the Gulfood trade expo in Dubai, reporting on companies looking to make their mark in the Middle East. Elsewhere, Amira Nature Foods was caught up in corruption allegations and investment firm Arlon announced the acquisition of a stake in Brazilian frozen veg maker Grano Alimentos.
"We've got very strong brands and we believe that they have the pricing power. And we just need to take some time for the gaps to narrow a little bit and for the competition to catch up" – price hikes – taken to offset higher cocoa costs – hit Mondelez International's sales volumes in 2014 but chairman and CEO Irene Rosenfeld is standing by the strategy.
"I think consumers still think of it as a diet, kind of a weight management brand. And I look at the packaging that's still on the shelves and I see the big K. And all I can think about is [1980s advertising slogan] 'can't pinch an inch' and the two-week challenges. It doesn't seem on-shelf to be very different from how it's been in the past…what kind of feedback do you have from consumers that they can look at the brand differently?" – Robert Moskow, analyst at Credit Suisse, questions whether Kellogg can ever really break perceptions of Special K being a diet brand.
"This report is malafide and fictitious. ANFI categorically rejects and denies the many mischaracterisations and factually inaccurate statements put forth in the report that do not reflect reality. We intend to pursue this matter legally" – Amira Nature Foods reacts to allegations it breached listing rules by cooking the books and using company funds for personal use.
"Global volatility has been concentrated in emerging markets… which [nevertheless] continue to be major contributors to our growth" – PepsiCo chairman and CEO Indra Nooyi says the company is is well prepared to tackle challenges presented by macroeconomic issues in 2015.
"In hospitals, I noticed how patients would eat the ice cream but wouldn't eat much of other foods if their appetite was depressed. I had a thing in my head about patients eating ice cream with no nutritional value and wondered what would happen if we tried to fortify the ice cream, get some nutritional value and still have an easy vehicle for them to consume the product" – Barry Murphy, MD of irish firm Paganini speaks to just-food at Gulfood about the launch of protein-enriched ice cream Fitfuel in the Middle East.
"People don't go to the supermarket with their shopping list saying I'm going to buy chewing gum or candies popcorn – you see it, you buy it" – Henry Lapidos, export manager at The Amperican Popcorn Co. says its often difficult for snack manufacturers to predict what growth is going to look like given snacks are not staple foods.
"We continue to find opportunities to grow in our core and expansion markets as we leverage our brand strength, efficient bakeries, distribution networks, customer relationships, and, most importantly, our motivated and experienced team. We also continue to monitor the landscape for acquisitions that will complement and enhance our overall business" – Flowers Foods president and CEO Allen Shiver says it remains vigilant for M&A opportunities despite posting lower full-year sales and earnings.
"I believe our brands and our people are an unbeatable combination, but as we look at 2015 and beyond, we need to leverage those strengths against a plan that accelerates the pace of change, improves execution and puts Kraft on a clear path to long-term, sustainable growth" –Kraft Foods Group CEO John Cahill says the company failed to deliver its potential in 2014.
"Arlon brings significant operating experience and networks in food and agriculture in Brazil. They fully understand Grano's business, and importantly, are fully committed to supporting Grano's growth" – Investment firm Arlon Group has taken a "significant stake" in Brazilian frozen vegetable maker Grano Alimentos.
"In the short term, a working group will be convened to look at all aspects of milk contracts, including implementing the recommendations of the voluntary code review and the need for more trust and transparency when it comes to milk buyers' contracts with their suppliers. This group will also further explore the role of futures in the dairy sector" – National Farmers' Union president Meurig Raymond comments on the agreement for a "working group" to be formed to address issues in the UK dairy supply chain.