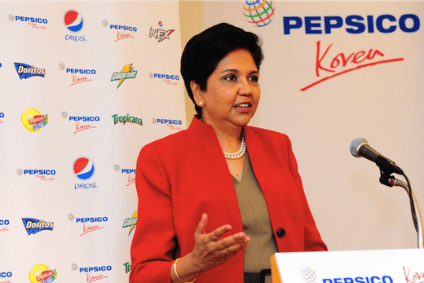 There were a flurry of companies reporting their results for 2015 and looking into 2016. Among them, PepsiCo said it beat its own expectations for last year but sounded a note of caution on macro-economic conditions for the year ahead. Kellogg, meanwhile, pointed to progress with its core US cereal business but admitted domestic problems with snacks. Elsewhere, Chobani confirmed it had rejected takeover offers and just-food interviewed Richelieu Foods CEO Tim O'Connor. Here is the week in quotes.
"Over my several decades in business, I have never seen this combination of sustained headwinds across most economies, combined with high volatility across global financial markets" – PepsiCo chairman and CEO Indra Nooyi said this week she expects "macro challenges" to continue in 2016.
"You're right. We've had a disappointing couple of years in US snacks. We've talked a lot in the context of our cereal business about Special K. Special K has also had a fundamental impact to our snacks business. We've had a headwind from Special K in snacks over the last couple of years. You've seen that come through in our cracker business with Special K cracker chips. It's come through in our wholesome snacks business with Special K Bars. The good news is where we have renovated those foods similar to what we've done in cereal, we're seeing the business stabilise" – Kellogg CEO John Bryant assures the firm has put measures in place to deal with weakness in its US snacks category stemming from the challenges in its Special K brand.
"A move out of the EU would undoubtedly make expanding this business more difficult so we are strong supporters of staying in the EU" – With Europe the largest market for Quorn Foods, Kevin Brennan, the CEO of the UK meat-free supplier, wants Britain to stay in the bloc.
"We've driven a lot of the innovation in the category, more so than the other private-label players but also more so than several of the brands as well" – Tim O'Connor, president and CEO of Richelieu Foods, explains why the US supplier of own-label frozen pizza, has enjoyed growth in recent years.
"Today's consumer is demanding transparency in food labels. Simply put, consumers want to know not just what's in their food but also where it comes from. We are proud to be leading the way in the pasta category by earning non-GMO Project Verification" – Ebro Foods SVP of marketing for Paul Galvani, senior vice president for marketing at Ebro Foods US arm New World Pasta, on the division achieving non-GMO certification.
"The use of this venture capital model, nixing unrealistic approaches and focusing on those where you have consensus among serious people who can actually move the needle, is key to accelerating credible scalable responses in the face of change" – Howard-Yana Shapiro, chief agricultural officer at Mars Inc, welcomes the launch of the Markets Institute – a platform working with entities including the private sector to increase the "speed and scale" of "market-based approaches" to boost sustainability in the global food sector.
"Even with countless nutritious snack options in store, people told us they still weren't quite satisfied and were often looking to make their own snacks using ingredients from their kitchen. We saw this as an opportunity to create a snack brand that tastes handcrafted, with rich textures and flavours you would expect from a chef and blends of ingredients you can find in nearly every grocery or natural food store" – Dustin Finkel, general manager for nutritious snacks at US infant formula and pharma group Abbott Laboratories, comments on the group's debut in the US snack bar market with the launch of Curate.
"Eliminating all artificial colours from our human food portfolio is a massive undertaking, and one that will take time and hard work to accomplish. Our consumers are the boss and we hear them" – Grant Reid, Mars Inc's president and CEO, on the Skittles maker's move to remove artificial colours from its food worldwide.
"We took our time with this process, conducted thorough due diligence and in the end, given our strong performance, we decided to fund our new growth initiatives ourselves while keeping our independence, which is important to us" – a spokesperson for Chobani comments as reports hit it turned down offers from suitors interested in investing in the US yoghurt maker.
"Feger and La Doria are major competitors in the Australian market. The Australian government is committed to a strong and robust anti-dumping system. The suite of reforms recently introduced by this government strengthened our system to ensure Australian manufacturers and farmers are competing with imported goods on a level playing field" – Christopher Pyne, Australia's Minister for Industry, Innovation and Science, on the imposition of anti-dumping fines on La Doria and Feger, two Italian exporters accused of dumping canned tomato products in the country.