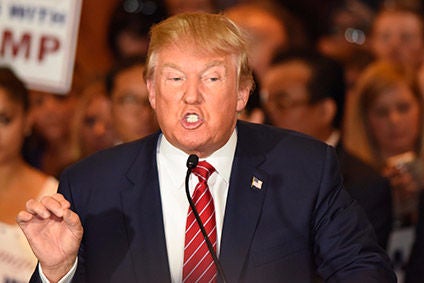 The story this week – period – was the shock election of Donald Trump as the US President. We looked at how the installation of the billionaire businessman in the White House could affect the food industry. Elsewhere, shares in a number of US food companies rose amid talk in Brazil that private-equity firm – and Kraft Heinz owner – 3G Capital was raising funds for more M&A. And, in Europe, Ferrero's bid to buy Belgian biscuit maker Delacre from Pladis is now in the hands of competition officials.
Republican Donald Trump has beaten front-runner Hillary Clinton in the race to become the forty-fifth President of the United States of America. His eleventh-hour election success defied the pollsters as first the key swing state of Florida fell, followed by North Carolina, Ohio and finally Pennsylvania. With big business largely backing Clinton, pundits are framing Trump's win as further evidence of disillusionment with the so-called political and business classes. just-food examines the implications of the election result for the global food sector.
Shares in US food majors including Mondelez International and General Mills rose yesterday (8 November) after Brazilian reports suggested investment firm 3G Capital is raising US$8-10bn to fund more acquisitions.
Ferrero's move to buy Delacre is to be examined by competition officials, snacks giant Pladis, the owner of the Belgian biscuit maker, has confirmed.
PepsiCo and Nomad Foods are reportedly among the latest companies asking supermarkets to raise the price of their brands due to devaluation of the sterling in the wake of the UK's decision to leave the EU.
Mexican bakery giant Grupo Bimbo has announced plans to close two of its plants in the US as part of a redistribution of its production across the country.
Much of the investor commentary around Associated British Foods can focus on Primark, with the UK-based clothing retailer the largest of the conglomerate's divisions by sales and its most profitable when looking at operating margin. That largely rang true yesterday when ABF reported its annual results but Dean Best caught up with John Bason, the Kingsmill maker's finance director, to discuss how the company's grocery operations had performed, its recent disposal of assets in the US and the impact Brexit could have on the grocery chunk of the business.
Japanese food group Ajinomoto has acquired a 33.33% stake in pan-African food group Promasidor Holdings for US$531m.
Danish Crown aims to consolidate is position in Denmark, Sweden, the UK and Poland to become the "market-leading" pork group in northern Europe.