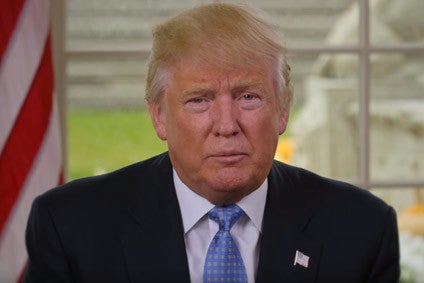 In a three-minute video on YouTube, President-elect Donald Trump gave some indication of his policy priorities for "day one" of his term – including pulling the country out of the Trans Pacific Partnership trade deal. Staying in the US, meat giant Tyson Foods named a new CEO. Staying in meat, Smithfield Foods snapped up a clutch of assets from Hormel Foods. And French poultry group Duc announced it was in talks over a "significant transaction".
President-elect Donald Trump has said the US will quit the Trans-Pacific Partnership (TPP) free trade deal on his first day in the White House.
US meat group Tyson Foods today (21 November) announced president Tom Hayes would become its new CEO at the end of the year.
US meat group Smithfield Foods is to acquire Hormel Foods' Clougherty Packing, the parent company of Farmer John and Saag's Specialty Meats, as well as two processing facilities and three farms.
French poultry processor Groupe Duc today (22 November) asked for trading in its shares to be suspended as the company is in talks over a possible "significant transaction".
Wal-Mart Stores has set out a range of new nutrient targets in a bid to make the food it sells in the US healthier.
Country Bird Holdings CEO Marthinus Stander said the South African poultry group would not seek another acquisition target should it decide not to pursue its interest in local rival Sovereign Food Investments.
Belgium-based private-equity firm Verlinvest has acquired a 24.5% stake in Italian tomato products group Mutti.
Rhodes Food Group, the South Africa-based business that has made six acquisitions in the last two years, has used a share issue to raise funds for more deals.
US-based agribusiness and food giant Cargill is to invest US$50m to expand poultry processing operations at its facility in Thailand's Nakhon Ratchasima province, the company announced today (24 November).