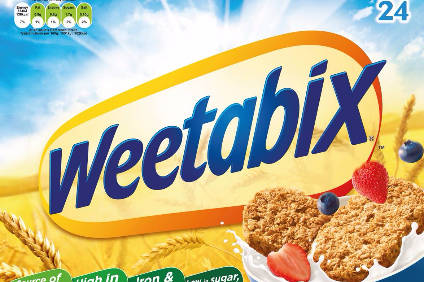 The takeover talk surrounding Weetabix gathered pace this week, with a number of major food companies said to be interested – although one of them told us they would not be bidding. Bakery group ARYZTA issued a surprise profit warning, heaping further pressure on its management. And the financial results for 2016 started to emerge, with Unilever and Mead Johnson reporting their figures.
Pladis, the UK-based subsidiary of Turkish food conglomerate Yildiz Holding, has said it is not among firms reportedly lining up to take control of Weetabix, the UK-based breakfast cereal business owned by China's Bright Food.
The pressure on Aryzta has grown this week after the Switzerland-based bakery giant issued a surprise profit warning, sending its shares tumbling and sparking speculation about the future of the company's senior management. Dean Best reports.
Mead Johnson, the US infant formula business, said today (26 January) its underlying net sales – its top-line number excluding the impact of exchange rates – could decline in 2017.
Unilever delivered sluggish sales but stronger-than-expected margins when it reported its full-year results today (26 January). The company's revenue was buffeted by issues like demonetisation in India and economic crisis in Brazil during the tail-end of 2016. While management believes such headwinds will lead to a slower start to 2017 – an outlook that hit Unilever's shares today – the group does expect things to pick up as the year progresses. just-food take a look at Unilever's strategy for growth this year.
Irish dairy group Glanbia has confirmed it is in "advanced" talks with three US dairy suppliers, including Dairy Farmers of America, over the formation of a stand-alone joint venture in the country.
India-based edible oil producer Ruchi Soya has denied reports it has struck a co-branding and distribution deal with Patanjali Ayurved.
Ireland-based dairy business Ornua said today (25 January) it had signed an agreement to acquire UK cheese ingredients company F.J. Need for an undisclosed sum.
Ireland-based Walsh Mushrooms has acquired local peer Golden Mushrooms, a deal it called "a positive move" for the sector as it readjusts after the UK's vote to leave the EU.
US food manufacturer and foodservice operator Bob Evans Farms has sold its chain of restaurants to focus on food – and is expanding its remaining business with the acquisition of potato products supplier Pineland Farms Potato Co.
Donald Trump formally removed the US from the Trans-Pacific Partnership trade agreement today (23 January), fulfilling a pledge the US President made during the election campaign.