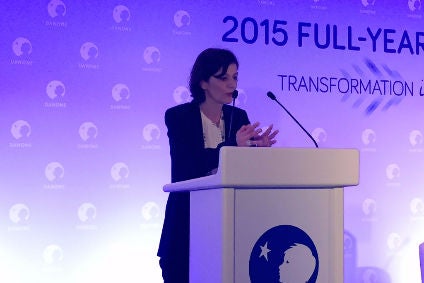 The week before Christmas saw a surprise sales warning from Danone, General Mills report a decline in its sales and Dutch poultry processor Plukon Food Group strike a deal to buy French peer Groupe Duc. Click on the links for more.
"Q4 was an important step for our dairy European business, especially with the relaunch of Activia, and we have to acknowledge that we are not yet at the level we thought we would be at this point in time" – Danone CFO Cécile Cabanis speaks to analysts after the French group announces its sales will not grow as quickly in 2016 as it thought it would, with issues with the relaunch of Activia in Europe a central factor.
"Our net sales performance did not meet our expectations in the second quarter. We didn't have enough marketing support – meaning the combination of trade, media and new product news to drive improved top-line results – and on top of that we saw a slowdown in food industry growth in the US in recent periods" – General Mills chairman and CEO Ken Powell on the reasons behind the US group's decline in second-quarter sales.
"Our increased focus and discipline on driving value over volume are enabling us to expand our margins as we build a higher-quality revenue base, improve efficiency, and deliver stronger, more consistent performance" – Sean Connolly, president and CEO at Conagra Brands, announces the US group's second-quarter results, numbers that included an 11.5% fall in net sales.
"The acquisition of Duc enables Plukon Food Group to further implement its retail strategy in France as a national producer" – Plukon Food Group CEO Peter Poortinga explains why the Dutch poultry processor has moved to buy French peer Groupe Duc.
"As the board contemplated the right strategic leader for the next great chapter in Hershey's history, it quickly became apparent that Michele offered the right mix of outstanding vision and proven execution to continue taking our company forward" – Pamela Arway, chair of the governance committee of Hershey's board of directors and chair of the board's special committee overseeing the CEO succession process, explains why the US confectioner has promoted COO Michele Buck to the position of CEO.
"We will pool our knowledge and product ranges to bring CDD's quality French desserts and ice-cream to the UK market, as well as using CDD's distribution network to better serve our European customers" – Richard Watts, managing director of UK dessert maker Destiny Foods, announces the company's merger with French peer La Compagnie des Desserts.
"Poultry cuts are driving growth in the market and we are responding to that in investing in these plants – making them more competitive, improving working conditions for staff and ensuring job security" – Denis Lambert, president and CEO of French poultry group LDC, speaks to just-food about the company's plans to invest in production.
"The rationale of the acquisitions is to underpin revenue. For example, the presence of Quijote in the US will allow Palacios to increase revenues from other Palacios products in the US market" – Palacios Alimentacion CEO Pedro Domínguez tells us why the Spain-based business has recently made two acquisitions.
"The market is sufficiently big for everybody. The branded business is run very autonomously" – Chaucer Food Group CEO Andy Ducker talks to just-food about the snacks group's recent sale to Japan's Nagatanien Holdings and how the UK firm believes it can prosper in brands and in business-to-business supply.
"The stake in Lácteos Caprinos makes Emmi's goat's milk network stronger in terms of procurement" – Emmi on its latest investment in goat's milk, its acquisition of an 80% stake in Spanish producer Lácteos Caprinos.