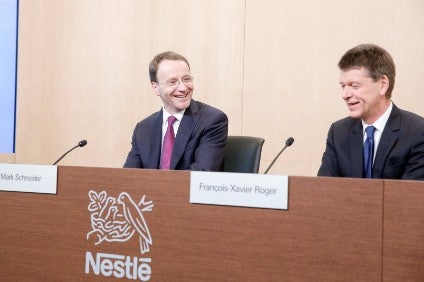 Nestle's new CEO, Mark Schneider, this week set out his plans for the world's largest food maker. Elsewhere, Mondelez International announced plans to end manufacturing in New Zealand. And Germany set out a move to invest in organic farming.
"There is nothing better for an organisation in the long-term than healthy organic growth" – Nestle's new CEO, Mark Schneider, was this week keen to stress Nestle is not backing away from its prioritisation of organic growth as a long-term value creator, despite forecasting lower organic growth this year lower than the so-called Nestle Model.
"We operate in an increasingly competitive industry and the factory's distance from its main market, low volume and complex product portfolio, make it an expensive place to manufacture our products" – Amanda Banfield, the vice president for Mondelez's operations across Australia, New Zealand and Japan, explains why the Cadbury owner has announced plans to end manufacturing in New Zealand.
"The goal of having 20% of the agricultural area managed in an ecological way is also to help our farmers take advantage of the opportunities offered by the growing organic sales market" – at this week's Biofach trade show in Nuremburg, Christian Schmidt, Germany's federal food and agriculture minister, announces plans to boost federal funding in organic farming.
"Today's announced changes will drive horizontal collaboration and vertical delegation across our entire organisation, making us more agile to grow, closer to consumers, and driving consistency in resource allocation" – Danone CEO Emmanuel Faber explains why the French giant has set up a new business structure ahead of its planned acquisition of WhiteWave Foods.
"The impact in terms of liquidity crunch was felt by our consumers and channel partners, thereby impacting our revenues, with sales dropping in November 2016 sequentially over October '16 by more than 10%" – Britannia Industries managing director Varun Berry reveals the impact demonetisation has had on the Indian food major.
"Looking forward, our objectives and opportunities are clear. But we need to sharpen our focus on profitable sales, and further improve our capabilities and execution to deliver another year of strong, sustainable growth in 2017" – Kraft Heinz CEO Bernardo Hees outlines what the US food giant must do to improve this year.
"Whilst confident that the long-term consumer trends are very favourable, we consider the Philippines a very developed, competitive and diversified market which will require diligent study and learning to ensure that the joint venture portfolio offering will best serve the needs and desires of the Filipino community" – Vitasoy Group CEO Roberto Guidetti announces the Hong Kong-based company's venture with Univeral Robina Corp. – but says they recognise the need to research the market before launching products.
"The half-year results show continued progress against the company's objective of building a global brand based on the health and digestive benefits of nutritional products containing only the A2 beta casein protein – free of the A1 protein" – A2 Milk Co. managing director Geoffrey Babidge announces a jump in sales and profits at the New Zealand-based dairy and infant formula business.