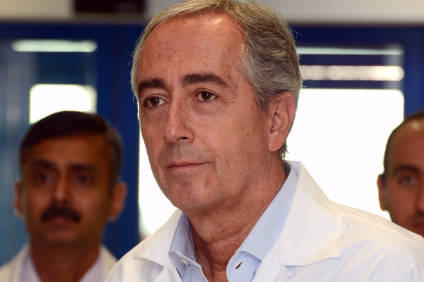 This week, Nestle got the industry talking with its claim it can "significantly reduce" the sugar in its confectionery products and Unilever gave a detailed update on its strategy at its 2016 investor day, while the two companies were among those under scrutiny for their sourcing of palm oil after Amnesty International's claims child labour is being used on plantations in Indonesia.
"Our scientists have discovered a completely new way to use a traditional, natural ingredient" – Stefan Catsicas, Nestle's chief technology officer, announces the Kit Kat maker's development of a new process that could enable it to cut the sugar content in its chocolate by as much as 40%.
"It fundamentally changes the way we do business" – Unilever CEO Paul Polman on the FMCG giant's Connected 4 Growth organisational overhaul, through which the Knorr and Magnum maker hopes to become faster, simpler, more agile and more focused on the consumer.
"Many of these highlighted issues need a bigger platform than sustainable certification to resolve; they require collaborations between governments, companies, and civil society organisations like Amnesty International" – Perpetua George, assistant general manager for group sustainability at Wilmar International, calls for joint stakeholder action after an Amnesty report claimed to show the use of child labour on plantations run by the Singapore-based agri-food group.
"The company shall become a leading player within fast-moving consumer goods" – Dani Evanoff, the CEO of under-pressure Nordic confectioner Candyking, announces his deal to buy the under-pressure Nordic confectioner.
"Our strategy will be to expand category penetration into newer categories, introduction of new products and sub-brands which will be supported by aggressive consumer education" – Dr Oetker talks to just-food about its "vision" to grow its sales in India six-fold by 2020.
"Today's announcement is a clear demonstration of Pilgrim's commitment to our growth strategy of disciplined acquisitions that enhance both our portfolio of value-added products and our ability to provide key customers with the high-quality products demanded by consumers" – Bill Lovette, the CEO of Pilgrim's Pride, explains why the company has moved to buy fellow US poultry supplier GNP.
"The sale of Diamond of California will expedite the company's plans to reduce leverage. In addition, this transaction provides incremental balance sheet flexibility to execute on the company's strategic priorities as opportunities arise" – Snyder's-Lance on its decision to sell the Diamond of California culinary nut business the US snack maker acquired last year through its acquisition of Kettle Chips maker Diamond Foods.
"The Moody's downgrade is based on dated information and does not reflect what's currently taking place at CSM" – a spokesperson for US-based bakery business CSM Bakery Solution brushes off downgrades from credit agency Moody's, insisting the company is looking forward to a "successful" 2017.
"It's evident that popular breakfast cereals can be manufactured with less salt and sugar and manufacturers need to do much more to improve their reformulation efforts across all countries" – Saadia Noorani, a registered public health nutritionist at World Action on Salt and Health, outlines the results of a survey from the campaign group that it said showed "a shocking difference in levels of salt and sugar" in breakfast cereals sold in nearly 30 countries by Kellogg and Cereal Partners Worldwide.
"Their products are perfectly positioned to benefit from the growing consumer desire for natural, good tasting products. With the team we have assembled I believe we have a very exciting future" – Former United Biscuits CEO Jeff van der Eems explains why he has invested in UK paleo snack bar maker The Primal Pantry.