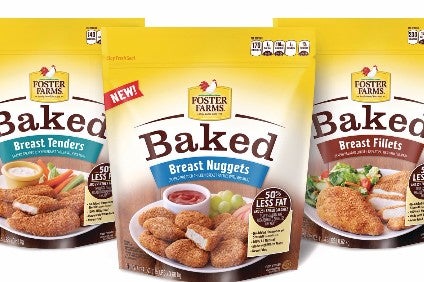 US poultry producer Foster Farms has named company veteran Dan Huber as its new chief executive officer (CEO).
Huber, previously the company's chief operations officer, has been with California-based Foster Farms for 23 years.
He replaces Laura Flanagan, who has resigned to "pursue other opportunities".
Terry Martin, chairman of the company's board, said: "Dan is uniquely qualified to lead Foster Farms. He brings over 23 years of agribusiness, supply chain, food production, food safety, and branded sales management experience to this position.
"His depth of expertise and familiarity with Foster Farms' business and community are strengths that will drive the company into the future."
Prior to joining Foster Farms, Huber held sales and management positions at Oscar Mayer and Kraft Foods. He has also participated on several industry boards including the US Poultry and Egg Association, National Chicken Council and National Turkey Federation.
Foster Farms, a family-owned business dating back to 1939, specialises in all-natural chicken and turkey products. It produces pre-marinated, ready-to-cook and fully cooked products for retailers, warehouse clubs and foodservice customers.
Earlier this month, Foster Farms was linked with a possible takeover move by Tyson Foods, the largest meat processor in the US.