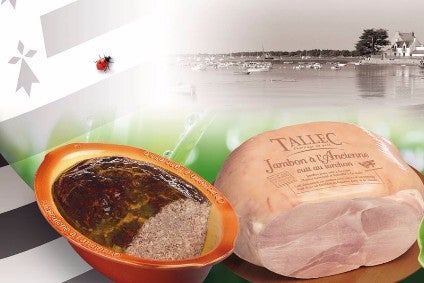 France's Agrial is poised to make its second acquisition in charcuterie this year with the purchase of Brittany-based family firm Tallec.
Agri-food cooperative Agrial did not disclose the financial terms of the deal and calls by just-food for further details went unanswered. Tallec has an annual turnover of EUR37m (US$43.8m) and employs almost 200 staff.
At the start of 2017, Agrial acquired Brient, a EUR65m business specialising in pâtés, ham and salad dishes. Like Brient, Tallec is positioned at the high-end of the market, making products such as traditional hams, terrines and pâtés mainly marketed through supermarkets and hypermarkets.
"The proposed acquisition of Tallec, after that of Brient in February this year, marks a new stage in the development of Agrial's meat division," the statement said.
"This second acquisition, which is highly complementary to Brient's activities, will enable Agrial's meat division to strengthen its offering and expand its range, increase and balance its market share in its various distribution channels, strengthen its development through the use of high quality raw materials and to improve its sectoral approach."
Agrial's meat division also comprises the Maître Jacques brand, which processes meat for prepared products marketed at delicatessen and supermarket outlets.
The company says its meat division accounted for 3% of turnover of EUR5.16bn in 2016, compared to 39% for the dairy segment and 25% for vegetables.