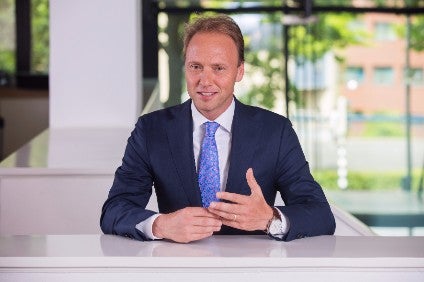 Dutch dairy cooperative FrieslandCampina has announced CFO Hein Schumacher is to become its new chief executive officer.
Schumacher, who has been FrieslandCampina's CFO for three years, will succeed Roleof Joosten who is resigning from the role. He will take up the CEO role at FrieslandCampina on 1 January.
The change at the top comes just a month after the business announced it is to restructure the way it operates to make it more responsive to market trends.
Speaking about Joosten's departure, Frans Keurentjes, chairman of the company's supervisory board, said: "As CEO, Roelof initiated important changes with the update of the route2020 strategy and the recently announced simplification of the organisation.
"Additionally, the sales of our infant nutrition in China strongly developed under the leadership of Roelof.
"As chief operating officer of FrieslandCampina Ingredients, Roelof envisaged unprecedented possibilities for the valorisation of whey, which today is an important ingredient of, among others, infant nutrition."
Turning to Schumacher, he said: "FrieslandCampina enters a new phase in which we will give priority to quick and adequate response to market developments.
"With Hein Schumacher we have a skilled leader within FrieslandCampina. His experience and vision will further strengthen our company both operationally and commercially and so generate more value for the member dairy farmers in a sustainable way."
Prior to joining FrieslandCampina, Schumacher held a number of senior executive roles at food giant Heinz, including vice president roles in the UK US and continental Europe.