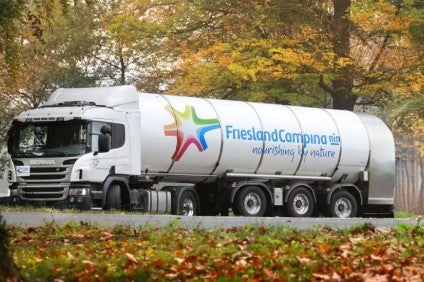 Hundreds of jobs at FrieslandCampina could go as the Dutch dairy giant accelerates moves to cut costs and "optimise" its business.
The co-op. owner of brands including Milner cheese and Yazoo milk drinks, said it "anticipates" cutting approximately 1,000 jobs by the end of 2021, with the cuts to come "mainly" in the Netherlands, Belgium and Germany.
FrieslandCampina said, where possible, the job losses will be achieved through "natural staff turnover, redeployment and refraining from filling vacancies". However, the company said it could not rule out compulsory redundancies. Staff representatives will be informed and consultation held when plans are finalised.
As part of further efforts to "optimise" FrieslandCampina's operations, the company will focus on its production network, layers of management, support services and functions.
The co-op, which had re-evaluated a strategic plan started in 2018, said it will need to further increase the productivity of its supply chain, particularly in the Netherlands, Belgium and Germany, with a focus on factories with "structural overcapacity".
Relocating activities and/or partially closing certain production sites, as was announced for FrieslandCampina's plant in Rijkevoort in the Netherlands earlier this year, could take place.
FrieslandCampina will also continue to review its portfolio, indicating "non-core assets could be divested".
The proposed measures are aimed at "structurally reducing" FrieslandCampina's costs by more than EUR100m (US$118.3m) a year from 2022 onwards. The company said it will use the savings to improve its profitability, pay "an exemplary milk price" to its farmer members and invest in the growth of the business.
CEO Hein Schumacher said: "To date this year, the majority of our operating companies have managed to increase revenue and we have also strengthened our positions in important consumer markets such as the Netherlands, the Philippines, Pakistan, Indonesia and China.
"We are weathering a perfect storm in 2020, however. Setbacks directly or indirectly caused by the coronavirus pandemic – such as the still closed border between Hong Kong and China, the fall in foodservice revenue worldwide, the devaluation of local currencies such as the Nigerian naira against the euro and lower bulk dairy prices – have significant financial impact on our profitability in 2020 and cannot fully be offset. Furthermore, profit margins in the Netherlands, Belgium and Germany remain under pressure.
He added: "We have the right strategy, but market conditions now require that we accelerate its implementation whilst intensifying the focus on profitable revenue growth and cost savings. We are fully aware that this will entail tough decisions which will have an impact on our people. Nevertheless, these interventions are necessary to enable us to operate successfully as a business and to continue to pay our member dairy farmers an exemplary milk price in the future."
FrieslandCampina expects to incur restructuring costs of EUR150-175m, which will be charged against its profit in 2020 and 2021, the majority to 2020.
In July, FrieslandCampina reported a 0.3% increase in half-year revenue to EUR5.6m. The company's operating profit in the first six months of 2020 rose 5.2% to EUR221m in part due to lower advertising and promotion costs. However, net profit fell 10.7% to EUR108m amid higher tax expenses.
In 2019, the co-op saw its revenues fall 2.2% to EUR11.3bn. It pointed to a decline in the milk supply of 3.4% as a result of a drop in the number of its member dairy farms. Operating profit increased 26.3% to EUR432m. Excluding one-off proceeds from disposals, operating profit increased 7%. Profit rose 36.9% to EUR278m, mainly as a result of one-off gains and improved operating profits from FrieslandCampina's Consumer Dairy and Dairy Essentials divisions.