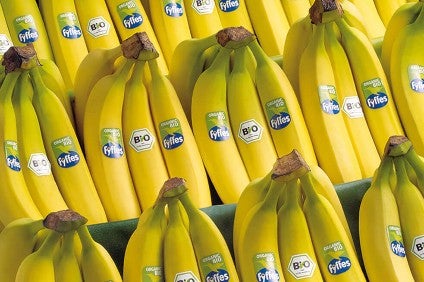 Fyffes has avoided outright expulsion from the Ethical Trading Initiative – from which the Ireland-based tropical fruit group is suspended – but it may be only a temporary reprieve.
The company has been threatened with being thrown out of the UK government-sponsored organisation over allegations relating to the treatment of melon farmers in Honduras.
However, Fyffes' expulsion has been postponed while the company and its Japanese owner Sumitomo Corporation hold talks with unions over the farmers' rights.
Fyffes has been a member of the ETI since 2002 but it was suspended in May for 90 days over "failure to meet its membership obligations".
The ETI ruling followed a complaint alleging farmers working for Fyffes in Honduras failed to receive minimum wage and social insurance, were exposed to hazardous agrochemicals and were sacked for being union members.
Fyffes faced outright expulsion at the ETI board meeting last week but the organisation has given the company a stay of execution to give the talks with unions a chance.
The ETI said in a statement posted on its website a "process of dialogue was now under way" between Fyffes, Sumitomo Corporation, and the International Union of Foodworkers.
"While the board recognised this as a constructive step forward, they also considered it too early to say whether the move will address ETI's concerns about conditions for workers in Honduras," the organisation said.
"The board therefore decided to maintain Fyffes' suspension for the time being."
It will review the position at its next meeting in November.
A spokesperson for Fyffes said the company "welcomes the recognition by the ETI that we are making progress in our discussions and will continue to work toward reinstatement to full membership in due course".
Fyffes was taken over by Sumitomo in a deal worth EUR751m (US$978m at the then conversion rate) agreed in December 2016 but finalised in February this year.
The firm employs more than 6,000 people and has offices in 12 countries. Its fruit is sourced from more than 2,000 farms in countries across Central and South America and Western Africa.
On its website, Fyffes says it takes its membership of the Ethical Trading Initiative "very seriously and has included compliance with the ETI Base Code as a contractual obligation when purchasing fruit".