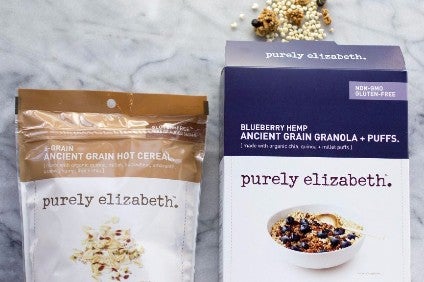 General Mills has made its latest investment in an up-and-coming US firm, with the food major, through its VC-style fund 301 Inc, backing cereal maker Purely Elizabeth.
The Cheerios maker has put US$3m into Purely Elizabeth, which supplies granola, oatmeal, muesli and cereal, for a unspecified minority stake in the business. The business, set up in 2009, claims to use "the highest quality natural and organic ingredients" in its products. It has secured listings with retailers including Whole Foods Market, Target and Publix.
John Haugen, the general manager of 301 Inc, said: "Purely Elizabeth is a remarkable brand with a premium breadth of products that have had incredible success in the natural and organic foods channel. Purely Elizabeth continues to be a stand-out in the nutrient-dense foods. We look forward to helping the brand unlock new areas of growth."
The backing from General Mills is the first external investment Purely Elizabeth has accepted since it was set up in 2009.
Elizabeth Stein, the firm's founder and CEO, said: "This investment is a great validation that Purely Elizabeth has become a brand to watch in the natural foods industry. Our strategic partnership allows us to utilise the resources and support of General Mills to boost our new product development, furthering our mission to redefine the standards of packaged foods."
General Mills originally devised 301 Inc as its innovation department but, in the autumn of 2015, the US food giant decided the unit would centre on providing capital to emerging food brands to create "breakthrough innovation in the food space".
It has since made a series of investments through 301 Inc. Last month, General Mills announced it had led a US$6.5m investment in California-based emerging probiotics firm Farmhouse Culture.
Farmhouse Culture taps demand for gut-health products – Expo West 2017 interview
This year, the company has backed US plant-based protein bar maker D's Naturals and put more investment into US kale snacks maker Rhythm Superfoods, a year after first investing in the fledgling business.
just-food interviewed 301 Inc. boss John Haugen in March 2016 to discuss General Mills' decision to set up the investment vehicle and its ambitions for the business.