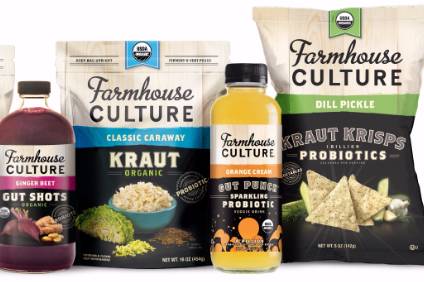 US food manufacturer General Mills is leading a US$6.5m investment in California-based emerging probiotics firm Farmhouse Culture.
General Mills said yesterday (8 March) it is leading a Series D investment round through its in-house arm 301 Inc to "drive national availability of the brand's growing food and beverage product lines".
Farmhouse Culture was founded in 2008 by Kathryn Lukas, who started selling her sauerkraut in a local Santa Cruz farmers' market. The firm has since expanded in the natural foods sector beyond the sauerkraut and its probiotic-packed Gut Shots line to sell a range of "probiotic-rich foods" in stores.
New Farmhouse products include "an expanded line of Fermented Vegetables including beets, carrots, cauliflower and more" plus a recent launch into the snack category with Kraut Krisps – a chip the firm said is made with 50% sauerkraut.
301 Inc VP and general manager John Haugen said: "We've been watching the functional foods space grow exponentially over the past few years, with Farmhouse Culture emerging as a leader. The recipe for success is there: probiotic-rich products that taste great, led by a team with strong experience in the natural foods industry."
Farmhouse CEO John Tucker said: "301 Inc and our existing investors are helping us reach our mission of cultivating generations of healthy microbiomes and improving health and well-being through nourishing probiotic-rich foods."
General Mills originally devised 301 Inc as its innovation department but, in the autumn of 2015, the US food giant decided the unit would centre on providing capital to emerging food brands to create "breakthrough innovation in the food space".
It has since made a series of investments through 301 Inc. This year, the company has backed US plant-based protein bar maker D's Naturals through 301 Inc.
In January, General Mills also put more investment into US kale snacks maker Rhythm Superfoods, a year after first investing in the fledgling business.