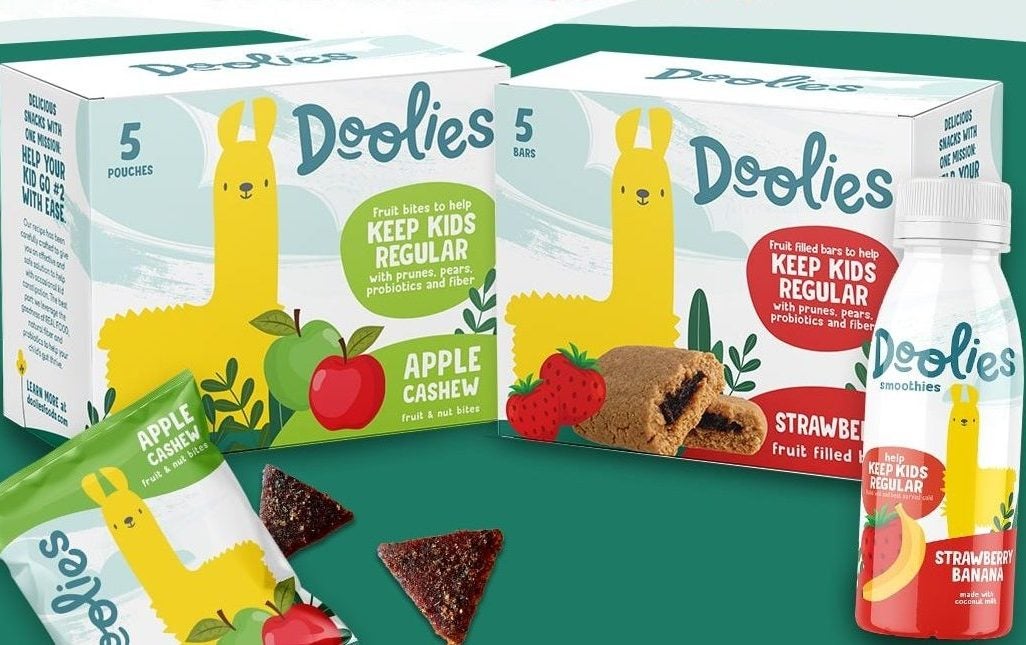 General Mills is targeting kids' constipation with a new start-up brand the US food group hopes to take to the retail market next year.
Doolies, a range of high-fibre snacks, bites and smoothies, has been developed as part of the Old El Paso owner's Accelerate Strategy, which was unveiled in February to drive in-house innovation to achieve long-term organic sales growth of 2% to 3% a year.
Under that same initiative, General Mills created what it calls a "strategy and growth organisation", housing a "disruptive growth office' in which sits a unit called Gworks, "tasked with changing the way the company innovates".
"This group started in 2019 within our North America retail segment and was comprised of small, nimble 'co-founder' teams who had a dedicated focus to solve one transformational business, trend or project as it related to a consumer need," General Mills explained.
Doolies is part of Gworks, which "uses a test-and-learn model to validate new business opportunities with an 'entrepreneurial mindset'", the Nature Valley snack bar owner said.
General Mills started selling Doolies products via a direct-to-consumer channel in May under Doolies Foods. After a "strong" uptake, the brand will roll out on Amazon in November, and if successful, a retail launch will be explored next year.
"Through months of consumer research, we found that kid constipation is a big and growing problem for today's parents. Thirty per cent of kids in the US suffer from constipation and parents aren't satisfied with solutions currently available – particularly pharmaceutical laxatives that are heavily recommended by paediatricians," General Mills said. "Parents are hoping to solve constipation more naturally – through intuitive foods and ingredients that help support a healthy digestive system."
Good Measure is another start-up brand introduced by Gworks. The nut butter bars and almond crisps were launched in June targeted at people with pre-diabetes or diabetes needing to avoid a spike in blood sugars.
General Mills reported its annual results in June for the year ended 30 May, when organic sales growth was 4%. However, it set out guidance for the 2022 fiscal year for a decline in the region of 1-3%.
The company cited the inflationary environment and an expected drop-off in at-home consumption for the downbeat outlook.
"Conversely, away-from-home food demand is expected to continue to recover in fiscal 2022, though not fully to pre-pandemic levels. With roughly 85% of the company's net sales representing at-home food occasions, these dynamics are expected to result in lower aggregate consumer demand in the company's categories in fiscal 2022, compared to fiscal 2021 levels," General Mills said.