General Mills predicts there is US$2bn worth of growth potential in its US pet-food brand Blue Buffalo as the so-called humanisation trend in animals continues.
Pet food represents the food manufacturing giant's fastest-growing category, with the US market making more than 95% of sales.
Addressing the Consumer Analyst Group of New York (CAGNY) investor conference today (February 21), General Mills CEO Jeff Harmening said he was "bullish" about opportunities in the North American retail sector.
He said consumer demand for "premium", "natural" food and humanistion of pets is driving growth in both dog and cat food.
The humanisation trend means so-called pet parents are not willing to forsake spending on premium, natural or branded pet foods, even in times when money is tight – unlike with certain human food categories. Harmening said Blue Buffalo is "very well positioned" to take advantage of premiumisation.
He said: "As the humanisation trend continues to drive increased share of premium pet food within the broader category, we see an opportunity for an additional US$2bn in Blue Buffalo retail sales over time, if we can continue to grow our household penetration and increase our share within the premium segment.
"To begin to capture that opportunity we need to do three things: continue to lead the humanisation of dog feeding, capitalise on our number one position in natural treating and drive the naturalisation of cat feeding."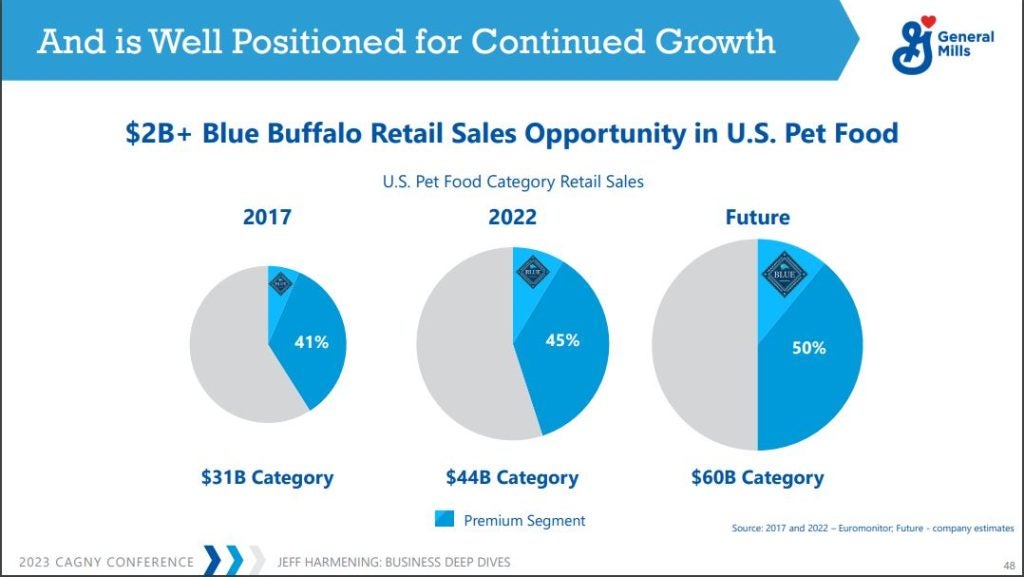 In General Mills' 2018 fiscal year – the period when the company entered the pet-food category with its acquisition of Blue Buffalo – the brand had net sales of US$1.3bn, which rose to US$2.3bn in the group's 2022 financial year.
Harmening estimated the premium segment, worth 45% of the $44bn pet-food category in 2022, will grow to 50% of the category "in the future" – and has a potential worth of US$60bn.
Earlier this month, US food and beverage manufacturer J.M. Smucker divested six of its pet-food brands to Post Holdings earlier this month. The US$1.2bn deal marked Missouri-headquartered Post Holdings's first foray into the pet-food category.
General Mills also highlighted portfolio expansion plans in its presentation. With premiumisation in mind, it is adding 20% more meat protein to its core Wilderness dry dog food range, launching a "super-premium" range within the Wilderness Blue Buffalo brand and testing fresh pet food in "deli-style" packaging.
The company also plans to expand Blue Buffalo's presence in China, where analysts see a similar humanisation trend. Last year, it tested a D2C sales model of Blue Buffalo in China and Harmening said "we learned a great deal about how the brand position fits within the Chinese pet food category".
He also hinted at plans for expansion in other international markets in fiscal 2024.
The company's confident pet-food predictions came as the company raised its full-year fiscal 2023 guidance today. CFO Kofi Bruce put this down to "continued strong in-market performance".
Organic growth is now estimated to grow by 10%, up from 8-9%, adjusted operating profit growth is now estimated at 6-7% versus the previous figure of 3-5%, and adjusted diluted EPS growth is now estimated at 7-8% compared to its 4-6% previous estimate.
"Humanisation" in pet food bounds along amid premium-led growth