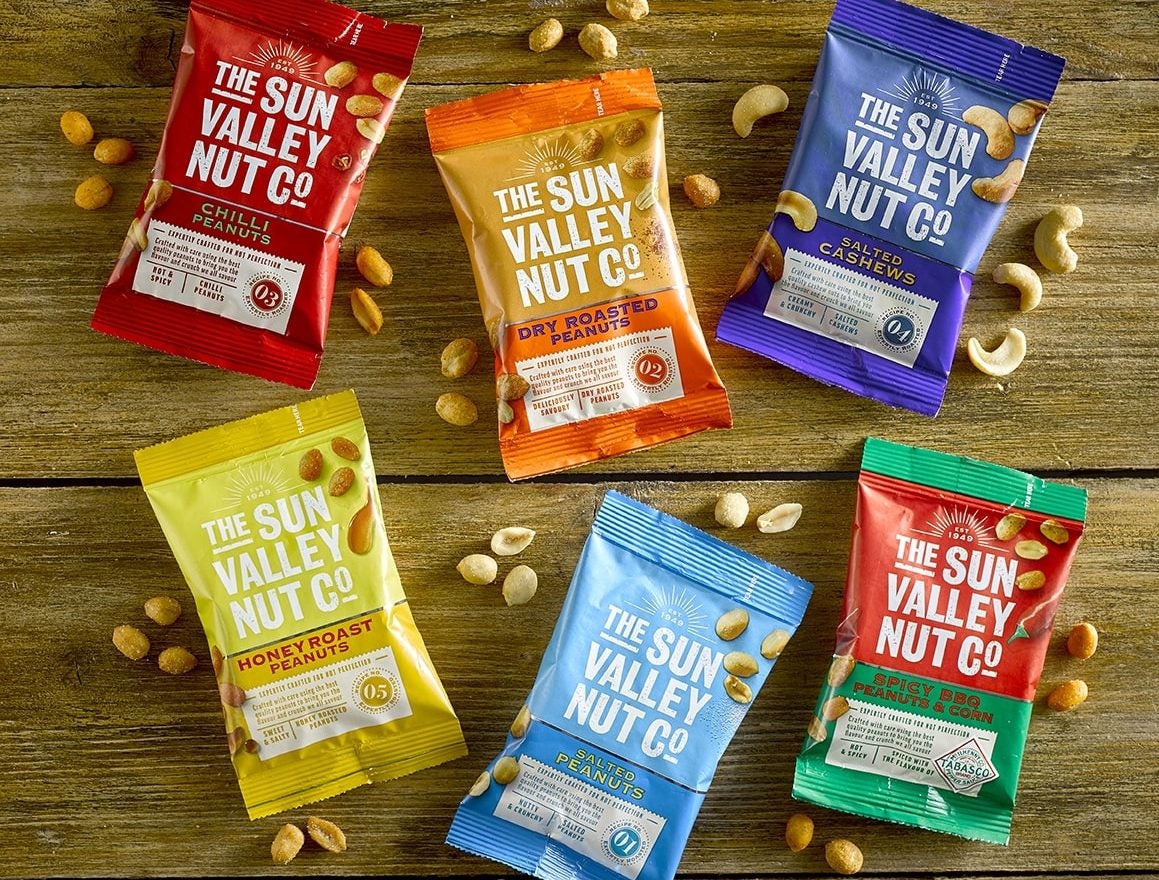 Germany's Zertus has expanded its snacking and confectionery presence in the UK and Ireland with the acquisition of The Sun Valley Nut Company.
Food firm Zertus, which inherited a number of brands and companies when it bought British peer Zetar in 2012, has struck the deal via its UK and Ireland division headed up by CEO Paul Tripp. Financial terms were not disclosed.
Owned by the Hacking family, Sun Valley was founded in 1949 and supplies private-label nut-based snacks to retailers and is also engaged in foodservice. Led by James Hacking, with three production facilities in Bromborough, Wirral, north-west England, the company also offers branded nuts, peanut butters and crisps under its namesake line and Nuts For.
"This is a strong acquisition for Zertus in the UK and one that complements our existing businesses in the healthier snacking sector. It will allow us to leverage our combined innovation and operational competencies to drive growth through exciting new products, while enabling us to meet and exceed our customers' expectations," Tripp said in a statement.
Hamburg-based Zertus provides a range of food and beverage products such as "gourmet" ready meals and nutritional products like protein snacks, muesli bars and smoothies.
Sun Valley will be housed in its confectionery and snacking operations, which incorporates brands and businesses acquired through Zetar, including UK firms Kinnerton, the owner of the Nomo free-from brand, Humdinger and its Fruit Factory kids' line, and Ireland's Lir Chocolates.
Zertus, which also makes "premium" Baileys chocolates in a partnership with UK drinks giant Diageo, said the division also houses Forest of Hope, a "recently launched kids' fair trade chocolate brand".
Mr Hacking, who is chairman of Sun Valley, said: "We believe that in Zertus we have found the right long-term owner for the business. We're confident that Zertus can make the necessary investments needed to take the business to the next level, whilst preserving the heritage of the Sun Valley business we have lovingly built over the last 72 years."
Zertus added the deal puts it at the "forefront of the snacking and confectionery industry by building on its already substantial portfolio of customer branded ranges for the UK's leading retailers".
It added Humdinger, Kinnerton and Lir Chocolates were brought together in 2019 to form one business unit – the Zertus Snacking and Chocolate Market Unit, UK & Ireland. The operation generates a turnover of GBP200m (US$267.2m) and employs around 1,300 people. It supplies major retailers in the UK and Ireland with private-label and branded products, including the Harry Potter range in Marks & Spencer.
Meanwhile, Sun Valley reported a turnover for the year to 31 December of GBP45.5m, with an operating profit of GBP110,239. In a filing with London-based Companies House, the business said Covid-19 lockdowns presented challenges, with a "total loss" of branded sales into the pub trade. However, it said that was offset by increased branded retail sales and a "substantial" rise in own-label volumes.