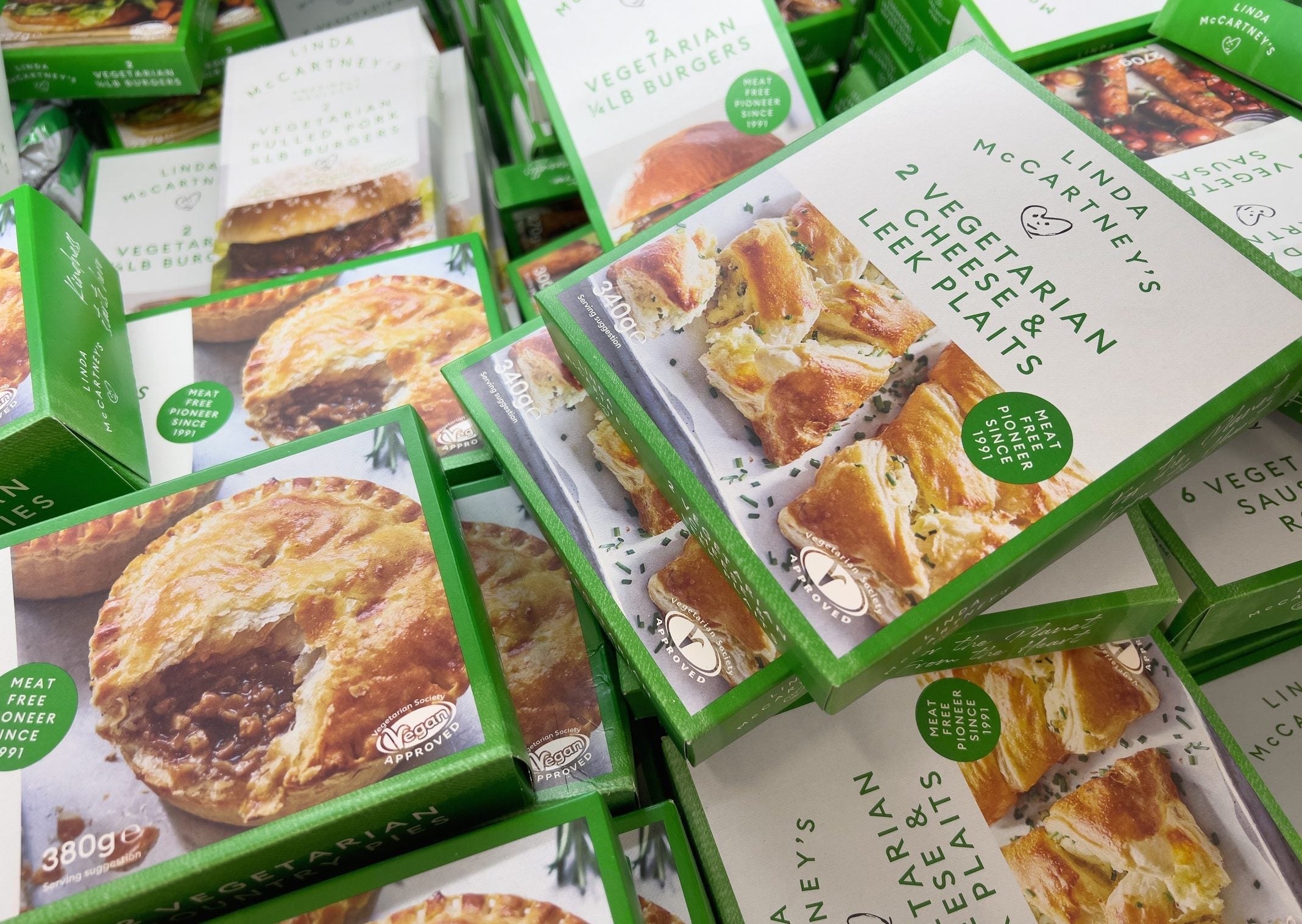 Hain Celestial aims to "stabilise" the US food and drink group's meal preparation and personal-care brands with a view to then assess "strategic options".
Under the company's "Hain Reimagined" strategy revealed today (13 September) by president and CEO Wendy Davidson, the group will focus resources on what it sees as three key growth areas in "better-for-you": snacks; baby and kids; and beverages. The latter is predominately centred on tea.
As part of the new 2027 strategy, Hain Celestial will embark on a restructuring programme to increase operating margins through the "optimisation of the company's brand portfolio, organisation, end-to-end supply chain, and working capital".
However, today's follow-on investor day presentation gave mixed messages around Hain Celestial's longer-term plans for its meal-prep portfolio, which includes the meat-free lines Linda McCartney's and Yves, along with New Covent Garden Soup Co. and Sun-Pat peanut butter.
Similarly, with the personal-care brands' portfolio, which includes Alba Botanica and Avalon Organics – the short-term goal is stabilisation. In the meantime, Hain Celestial has a current commitment to five growth "pillars", which for the time being also include "better-for-you" meal-prep and personal care, Davidson suggested.
"We will maintain or stabilise the brands in our meal-prep and personal-care platforms. These businesses will deliver critical value to the P&L both in reducing top-line pressure but also in improving our margins," she explained.
"Once these businesses are stabilised, and in a strong position, we will explore our strategic options around these categories and brands. We believe this focused strategy enables us to right-size the resource allocation behind the platforms with the greatest potential."
A Hain Celestial spokesperson sought to clarify the course of events, saying in a statement sent to Just Food: "As we stabilise challenged businesses, we will evaluate where the brands fit within the portfolio, which could shift to 'grow' or 'maintain'.
"Our goal is to get the brands as healthy as possible and then make decisions going forward."
"Strong velocities"
Non-dairy beverages, which for Hain Celestial include the Joya and Natumi lines, also fall into the parts of the portfolio the company wants to "stabilise".
Dairy-free drinks and meat-free have both had challenges, Davidson said, as the topic of potential disposals kicked off the Q&A session.
"We've also chosen categories not just because they have tailwinds but we have to have an intentional growth strategy that doesn't just rely on participation in the category," she responded.
"We know that what we need to do is have a very detailed action plan that we can execute against. We need to choose the categories that not only we believe in category growth but we can disproportionately grow inside those categories."
In what was a lengthy reply, Davidson added: "We're leaning into the areas that we know will deliver share gains, distribution gains and good strong velocities. I think the biggest change for us is a very robust end-to-end review of our business. We need to get better before we get bigger."
Snacks will be Hain Celestial's key focus category, where the business plays in products such as Garden Veggie puffed snacks and Terra crisps.
"We expect snacks to be the largest contributor to our growth, with significant gains in driving velocity, expanding into away-from-home channels and launching breakthrough media campaigns that drive awareness of our brands," Davidson explained.
While Hain Celestial supplies 75 markets, the company says its five largest are in the US, Canada, the UK, Ireland and continental Europe, which represent more than 90% of group sales and are the "most attractive", she said.
Operations will be streamlined, including manufacturing, into two so-called "macro-regions" – North America and international, with four separate units under the latter.
Hain Celestial has a target of generating a CAGR of "at least" 3% for its organic net sales over the course of the programme, with a "path to delivering" an EBITDA compound annual growth rate of low double digits, along with low double-digit adjusted EBITDA margins by 2027.
CFO Chris Bellairs put those percentage end goals at 10% and 12%, respectively, with a target to also add 400 to 500 basis points to the adjusted gross margin over the timeframe.
He added: "We expect the bulk of our growth to come from North America with a top-line CAGR of at least 4% over the period. Our international business is expected to grow at a greater than 1% CAGR over the long term with the potential for faster growth in the early years of the plan as we stabilise the non-dairy and meat-free businesses."
April 2023: "My bigger concern isn't what we need to get rid of. It's what we need to add" – Hain Celestial CEO Wendy Davidson talks strategy