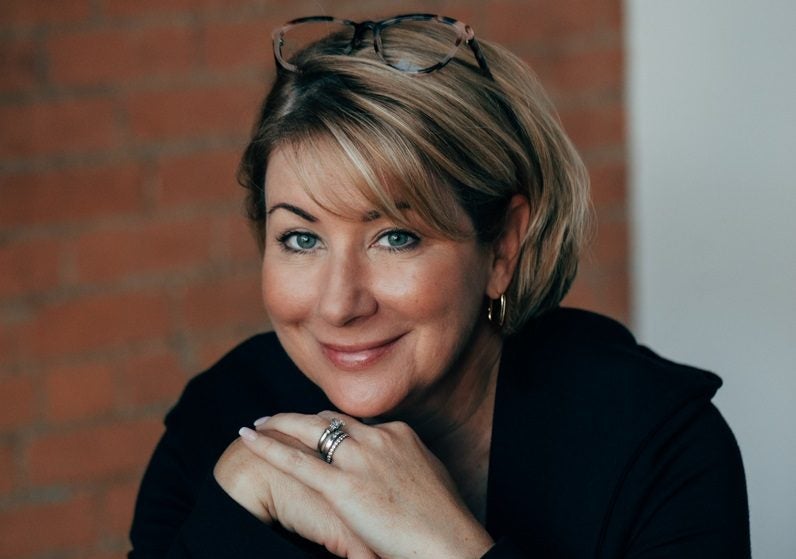 Wendy Davidson's philosophy at Hain Celestial is more about what to add to the US-based group's portfolio rather than any plans to dispose of brands or businesses – and M&A could be a feature.
Almost four months into her role as president and CEO of the $1.9bn revenue company, headquartered in New York, Davidson welcomes the steps taken by her predecessor Mark Schiller to trim the portfolio – from 65 to 35 brands, she declares in an interview with Just Food.
Now it's all about where she and her colleagues can take those brands in terms of expanding the reach, both in new product areas and geographically, while also exploring opportunities in new channels and e-commerce. And Davidson has no plans to exit private label or the personal-care business, either.
Davidson already outlined her initial strategy on a second-quarter results call in February and expects to reveal more on the next earnings day on 9 May, including a longer-term growth algorithm. "Stay tuned," she says coyly.
"We're taking a hard look at the strategy and assessing the categories we're in. How big can they be? And what will it take to go after that?" Davidson explains, posing a set of rhetorical questions.
"Are there categories we're not in that we would want to be in and is the easiest way to enter to stretch one of our existing brands? Or is it acquisition? Are there parts of the portfolio that we would still reshape a bit?
"Are there things that we thought were going to be a bigger growth driver that are maybe more in a maintain [mode]? They're important in the portfolio, they just won't be an exponential driver of growth, but they're an important part of generating fuel for the rest of the business."
Hain Celestial's existing business model is weighted to North America, where sales last year made up $1.16bn of the group's $1.9bn total. International, primarily Europe and especially the UK, accounts for the rest.
Encompassing snacks, desserts, yogurt, baby food and plant-based alternatives to meat and dairy, brands are sold in individual markets or globally. Linda McCartney's range of vegan options and Hartley's jams are distributed in the UK, for instance, while Yves plant-based burgers and grounds are available in Canada.
Davidson suggests Hain Celestial is in a "compelling space" for the consumer, with about half the global portfolio positioned as number one or two in their better-for-you categories. There might be some further trimming of SKUs, she says, but no "holistic brand rationalisation".
Ella's Kitchen is an example, the baby-food company and brand Hain Celestial acquired in 2013 that currently only caters to toddlers. Perhaps the brand could be expanded to an older age group, kids of school age, Davidson suggests. Or taking snacks in the US market into more eating occasions.
"My bigger concern isn't what we need to get rid of, it's what we need to add," she says. "Are we well-positioned to drive growth in the brands that we have? Do we have the right operating model? Do we have the right go-to-market that we can go after all the potential points of distribution we want to be in?"
Expanding channels
One such area might be direct-to-consumer as Davidson reviews Hain Celestial's e-commerce capabilities, or moving beyond traditional food retail to the out-of-home segment – forecourts, being an option under consideration.
"Whichever market you look at, our products are well suited to a direct-to- consumer or an e-commerce model," she argues. "We're not fully executing against that and we're under-indexed to the industry. That is an upside opportunity."
Davidson outlines the benefits of getting more channel exposure, noting 30,000 points of US distribution in a typical retail store, compared to say two million points of distribution in the out-of-home sector.
"Those two million points of distribution are worth smaller dollars but there's a lot of them, so you don't want one at the expense of the other. You want both for the right brands and certainly for our better-for-you snacking portfolio, that's an opportunity."
She adds: "If I apply that to our European business, we've got opportunities in the UK, certainly on the plant-based side in partnership with restaurants. We have that opportunity in some of our hot desserts business and partnering with foodservice establishments. We have opportunities with some of our grab-and-go items, especially in the Hartley's brand to be there in that immediate point of consumption in forecourts, in small retail environments.
"There are opportunities for us to drive incremental distribution – that is incremental revenue. There are whole channels where the consumer shops that we're not present in, but we could be in. I'm more interested in where do we need to add the capabilities that will enable us to go after incremental, profitable growth for the company."
Hain Celestial's balancing act
While the majority of Hain Celestial's sales are generated in North America, on the international front the company does have a "small piece" of business in the Middle East and a "little bit in Asia but very small", Davidson confirms.
However, with respect to potential expansion in Asia and Australia, for instance, she says, "possibly" but adds "it's not a priority right now".
"I want both of them to grow," Davidson responds when asked if she will seek any rebalancing in revenue. "I don't think the stated objective is around the balance of the mix of the business, it's based on where's the opportunity that will provide the greatest return for our shareholders.
"Where can we stretch the brands that we have today and where do we have a licence, an ability to play? It depends on where the greater growth potential is for the brands and businesses we have. Is there a greater growth for us in snacks in North America? Or is there a greater growth for us in our other businesses outside the US? That will remain to be seen as we get into the strategy."
More generally speaking in terms of potential new markets, Davidson adds: "It will depend on where the opportunity is, the cost of doing so and where's the better return for our dollars and resources. Is it to go deeper in the markets that we're in, our core markets? Or is it to stretch to adjacent markets? I wouldn't see us making a holistic push geographically but I do think there are opportunities for our brands to play in more than one geography."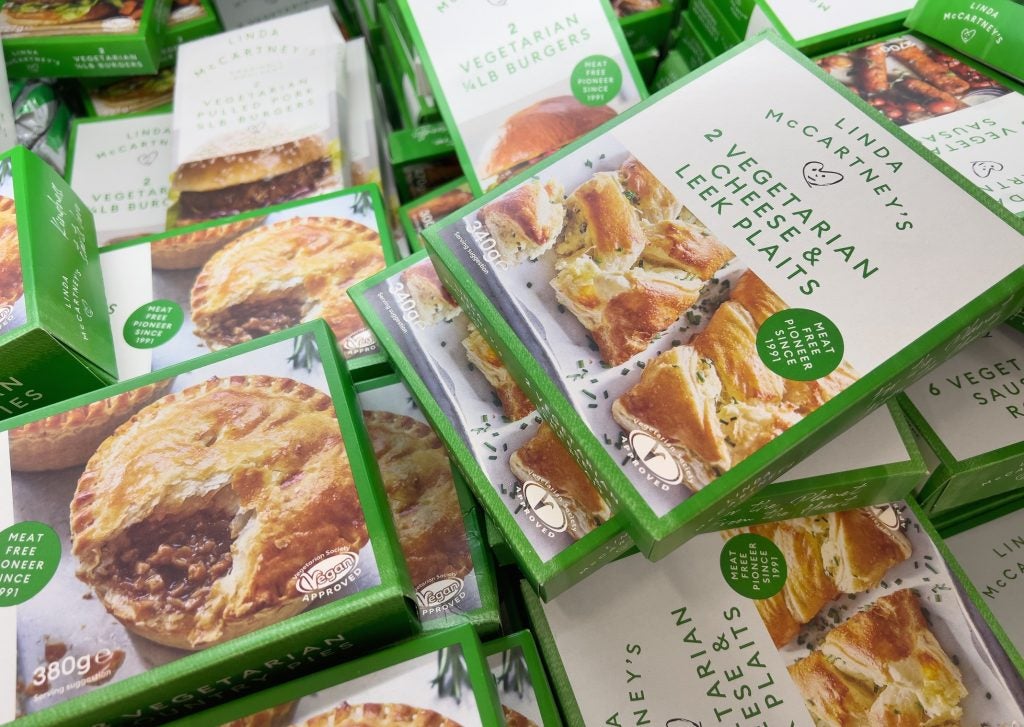 Davidson says she's happy to have brands and private label sitting side by side in the portfolio and rules out exiting the own-label business, so long as there's a clear distinction but still providing healthy eating options and convenience. The company's brands, nonetheless, cater to the more upmarket consumer, or the "less price-sensitive" consumer.
"There are some markets where in our categories private label and brand coexist very well because they appeal to either different consumers or different consumer price points. We're arguably a good leader in that space [own-label]. But I do think we want to be very clear on what is the role of brands and how we are supporting the brands, what's the role of private label and how do we make sure that we're relevant in that portfolio?"
Belief in meat alternatives
The former Kellogg, McCormick and Tyson Foods executive is also committed to the personal care side of the portfolio in supporting the consumer seeking a healthy life style, sun care products being an example.
"It isn't a matter of should we be in it or not," Davidson counters when asked about future direction. "It's how do we do it in a way that it can self-sustain and exist in the market, and then it's got a relevant point of difference that is accretive to the overall portfolio."
She's equally sanguine about other parts of the line-up, with a balanced philosophy behind future growth opportunities.
"If they're in the portfolio, we should expect them to grow. The question is, how much should they be expected to grow? And how much would it cost us so that you disproportionately invest where you can drive greater growth. But it doesn't mean that we're willing to watch businesses whittle down to nothing," Davidson says.
Hain Celestial has a diverse offering across meat-free and vegan alternatives and Davidson appears to be a great believer in the category despite all the hype in recent years and slowing demand in some geographical markets.
However, the company is not present in the segment in the US. "I don't know the answer to that. We're looking at the strategy," she replies when questioned on the reasoning.
"We're asking those questions about every brand we have, where are they today? Where could they stretch to, where do we have the ability and where do we have the capability to be able to do so and is the market ripe for that?"
But she has no plans to seek out M&A as a US entry point: "I would not anticipate that in the short term certainly."
Instead, Hain Celestial will probably go "deeper in the markets we're already in", Davidson says, noting the company also serves up private label in the category.
She backs the argument that plant-based meat manufacturers should not be solely focused on trying to replicate animal proteins, emphasising taste should be front and centre of any proposition, as many proponents have suggested.
"The innovation team is focused on how do we deliver great food for the Linda McCartney's brand and not get distracted by the bright shiny objects in the category," Davidson says. "What we know about that core meat-free consumer is they're unwilling to sacrifice taste."
However, the "meat-free flurry over the last few years", as Davidson describes it, has brought new consumers into the category.
"If they want a meat experience, they're going to have meat. If they want a truly good vegetarian meal, they're looking for it to have the right ingredient profile so they're not sacrificing protein and fibre. They want great taste and they want it to be convenient and affordable," she argues.
A fog has surrounded milk or dairy alternatives of late but peering through the mist Davidson believes the category has long-term legs. Her predecessor Schiller, who became a non-executive director at Hain Celestial, last August indicated some softness in the sector, particularly in Europe, where growth had "slowed significantly".
Davidson suggests that's linked to a two-part story – the cost-of-living crunch on the one page and capacity on the other. Discounting those factors, "we still see great growth in demand with the consumer in the idea of non-dairy beverages and plant-based beverages", she says, where Hain Celestial plays with brands such as Joya and Lima, and Linda McCartney's creamers.
"There were some structural dynamics in the industry around capacity that definitely led to challenges for every player that was in the space, us included," Davidson explains. "I feel very good about the business that we have. And I think the team has done a nice job of navigating the short term to ensure that we're well-positioned for the long term."
With fewer than four weeks until Davidson delivers her second results briefing, financials were not up for discussion. "I'll give you line of sight to that in the earnings call," she responded when asked if Hain Celestial is done with pricing.
"I like where our brands are positioned in the categories that we're in. The categories we're in tend to be where the consumer is a little less price sensitive and we tend to be the entry price point in better for you."