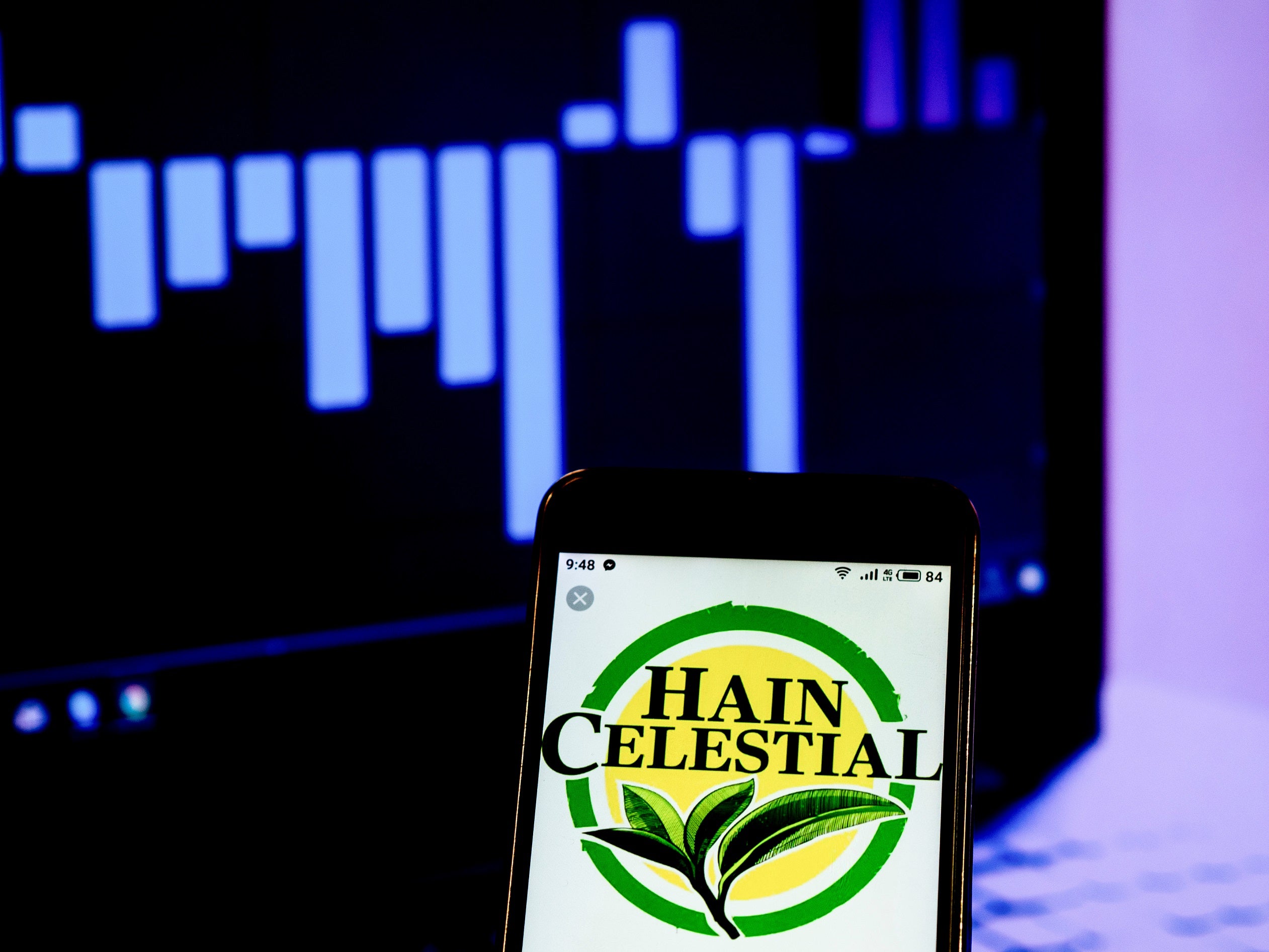 As the new CEO of Hain Celestial, Wendy Davidson has outlined plans to make the company a "bigger player" in the better-for-you category, kicking off with brand building and marketing investment.
"Brand building has been far below the industry average" of late, Davidson said yesterday (7 February), speaking on her first results call with analysts since she joined the US branded and private-label supplier at the start of the year.
"I see strong potential to drive growth in our categories and brands with expanded reach across channels and geographies. In my first few weeks, we've made some early decisions to streamline our operating model, leverage our global capabilities, focus our leadership and invest behind our brands."
A return to the marketing investment wheel is planned in Hain Celestial's fiscal third quarter, with a further ramp-up in the proceeding three months. However, as Davidson discussed the second-quarter results to 31 December, she noted a "significant impact" on revenue will not be felt until the final reporting period.
As Hain Celestial's CFO Christopher Bellairs painted a brighter picture on inflation – "plateauing" or moving into deflation in the second half – CEO Davidson said the business' better-for-you brands in snacking, baby foods, yogurt and plant-based are "under-indexed" and "under-shared".
She added: "Hain has credibility in that space, that in some ways we've maybe underleveraged in reach across channels and reach across our geographies. I think there's an opportunity for us to align ourselves around categories where we can win with brands that can be a bigger player and get our full share, fair share and full potential across the marketplace."
"Big bets"
Davidson's predecessor Mark Schiller had employed a strategy of simplifying the portfolio by eliminating underperforming SKUs, an optimisation programme that featured in a question fielded by an analyst yesterday.
"When you have too many small brands, the entire organisation and that complexity is distracted, with lots of small opportunities instead of placing a few big bets," she responded, posing a few questions of her own.
"'Do you have the core portfolio in all the right places? Do you have the right pack and size, and right price architecture to be in the right place in the right way? Is your sales team executing across the marketplace in a way you want? And have you built a P&L shape that enables you to consistently support the brands in all the points of distribution?'
"And then you follow that up with plans for innovation that keeps fresh news around the brands. But that is sustained investment around the innovation big bets."
Hain Celestial's internal capabilities and consumer engagement will also play a part, using insights and analytics to make sure the company addresses any potential gaps in the market.
Davidson explained rhetorically: "Are we doing things on digital that keeps our brands top of mind? What's the role of e-commerce, not just traditional e-commerce but even our own channels that we can use as brand-building vehicles to keep our brands top of mind with the consumer?"
Hain's sales performance
CFO Bellairs said the adjusted gross margin and constant currency adjusted EBITDA came in above Hain Celestial's guidance but second-quarter sales fell. They were down 5% at US$454.2m and dropped 2% when adjusted for foreign exchange, acquisitions and divestitures, and discontinued brands.
The gross margin declined 170 basis points to 22.9%, while adjusted EBITDA fell 11% to $52.7m. Net income decreased to $11m from $30.9m and dwindled to $18.3m from $34.3m in adjusted terms.
"Consistent with our original guidance, we expect adjusted EBITDA growth at constant currency to be second-half weighted due to easing comparisons, abating supply chain disruption, plateauing inflationary pressures and greater benefits realised from both existing and planned pricing action, as well as increased productivity," Bellairs explained on the call.
In North America, Hain Celestial's largest business area, sales rose 3% to $282.4m but were down 2% on an adjusted basis primarily as retailers cut back on tea orders following an unusually warm autumn, along with "lower" sales in personal care. Snacks, however, picked up some of the slack.
For the second half, Bellairs said adjusted net sales growth in North America is expected in the low single-digits "as we realise consistently strong growth in areas such as snacks and yoghurt that will be partially offset by softer trends in other areas of the business during Q3".
"Softness" in plant-based
The softness is reflective in baby foods due to distorted comparisons to last year's surge in demand for infant formula when Abbott Laboratories stopped production at a US factory linked to a salmonella scare. Hain Celestial is also experiencing what Bellairs called "persistent packaging and formula shortages" in the category despite international manufacturers stepping in to shore up supply.
International sales were down 15% at $171.8m and were 3% lower in adjusted terms due to "softness" in the plant-based category in Europe. Schiller used the same term last August when he presented Hain Celestial's fourth-quarter results, with the descriptive referring to alternative-milks where the company plays in brands such as Joya and Lima, as well as private label.
Schiller said at the time that European growth in plant-based milks "slowed significantly" in the fourth quarter amid the "macroeconomic challenges and uncertainties".
However, there was also some "softness" in plant-based meat in the UK, mainly the Linda McCartney's brand, Schiller had said, noting the "well publicised" global slowdown in the category.
Inflation picture
During the second quarter of fiscal 2023, Bellairs said Hain Celestial benefited from an "ongoing" shift into private label in the UK amid the cost-of-living crunch. And further afield in Europe, the decline in sales "improved notably" led by non-dairy beverages and the "private-label mix shift within the category where we have a meaningful presence", he added.
The CFO expects international sales to grow mid-single-digits in the second half, "driven by accelerated growth in the UK".
"UK performance is expected to be driven by new and already implemented pricing actions, expanded distribution, and the lack of significant declines from last year as consumer confidence and total store sales plunged after the start of the Russia-Ukraine war," Bellairs explained.
Davidson, meanwhile, sought to dismiss speculation that Hain Celestial might exit categories where the business has experienced "softness".
"There are some one-time, or sort of episodic events over the last year, and then because of our supply chain situation that resulted in some softness in categories. But I don't think that's an indication that those aren't spaces we want to be in or that those aren't areas that could turn around," she explained.
Hain Celestial is also relatively insulated from the cost pressures and the impact from consumers to pricing due to the premium nature of many brands the company plays in. "That's allowed us to be able to continue to appeal to a less recession-sensitive consumer," Davidson said.
Bellairs outlined how Hain Celestial has hedged raw material and packaging costs for the second half as he sees inflation "plateauing" but emphasised that scenario "doesn't look like it's on the horizon as we sit here today".
He added: "Even if you did start to see some inflation, some deflation beginning to emerge, when that will actually pass through to our cost structure and our gross margin is probably still out over the horizon a little bit.
"There is a difference between what we're seeing in North America and what you're seeing internationally. With CPI coming down month-over-month in December in North America, good news.
"In international, there are still some items that are running pretty hot and no sign yet that that's going to abate in the short term. We're definitely seeing the two segments differently and manage the businesses differently as well."
Government-imposed energy price caps in countries such as the UK, Germany and Austria have helped reduce risk in Europe, Bellairs said as Davidson suggested a more diverse global brand strategy could be rolled out.
"There are very few in our portfolio that today are truly global brands. The question though is, 'do we have brands in our portfolio that could be more global or could span broader geographies. And if so, how do you effectively have a global brand strategy, and then local execution, regional execution?'
"Those are big questions that we'll be asking as we go through this strategic review is to make sure that where we can, we will. 'And how do we best get global leverage around those brands and global awareness?'"