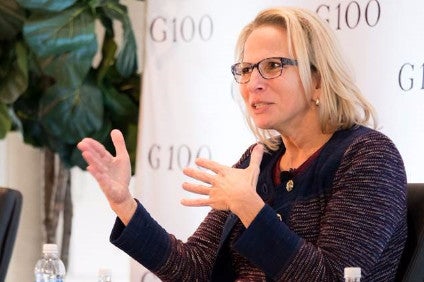 Hershey CEO Michele Buck has reportedly said she is "very open" to the US snacks giant looking for mergers and acquisitions, which she claimed will play a "key role" in the Reese's maker's growth.
Speaking to Fortune, Buck said M&A would play a part in Hershey's growth strategy, with the company open to a "transformational acquisition".
"I'm very open to mergers and acquisitions. I see them playing a key role in our growth agenda going forward," Buck said. "We've an opportunity with mergers and acquisitions to go into spaces where our brands currently can't travel. And that will be one way we grow."
Buck became Hershey CEO earlier this year, promoted from being the company's COO and replacing J.P. Bilbrey. In February, Buck revived the role of chief growth officer at Hershey – a position she once held at the company – as she put together her leadership team. Former JC Penney and Mondelez International executive Mary Beth West was appointed to the role.
Hershey's most recent acquisition was in April 2016, when the company snapped up Ripple Brand Collective, the US firm behind the BarkThins snack brand.
In January 2015, Hershey stepped out confectionery when it acquired US jerky firm Krave Pure Foods.
Asked what kind of deal Hershey could look for, she told Fortune: "I think it's about the right marriage of portfolios, expansion into new areas that are on trend with consumers and, of course, the right price factors into that as well."