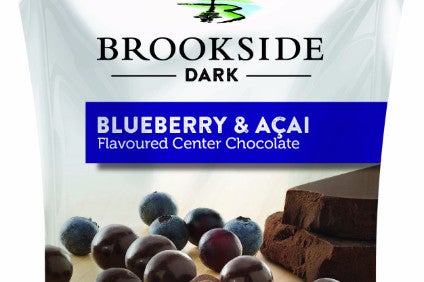 Hershey has launched its "premium" chocolate brand Brookside in India.
The US confectioner said it wanted to "ride on the substantial growth being witnessed by the Indian chocolate category in the premium space".
Brookside joins a stable of products Hershey markets in India including chocolate spreads and milkshakes.
Hershey has been operating in India independently since 2012 after operating a joint venture in the country for five years with local conglomerate Godrej Industries. Hershey bought out Godrej in the autumn of 2012.
Praveen Jakate, the managing director of Hershey's Indian arm, said: "These are exciting times for us at Hershey's India. Over the past few months, we ventured into several attractive categories like milk additives, milkshakes and chocolate spreads, through differentiated products offering delicious taste and fortification, under the Hershey's brand. We have now entered the growing premium chocolate category with our globally acclaimed brand Brookside."
Hershey is selling three Brookside varieties in India – blueberry and acai; raspberry and goji; and pomegranate. The chocolates are sold in pouches, with two sizes on offer – a 33.3g pack at INR50 (US$0.74) and a 100g pouch at INR140. Hershey said the products would be available in "large stores in select cities across India".
The US confectioner acquired the Brookside brand through its 2011 deal for Canadian candy firm Brookside Foods.
In June, Hershey announced it would close a factory in Canada manufacturing products under its Brookside brand. Production was to moved to a second site in Canada and to a facility in the US.
On 22 December, Hershey said it would be promoting COO Michele Buck to the post of CEO when J.P. Bilbrey retires later this year.