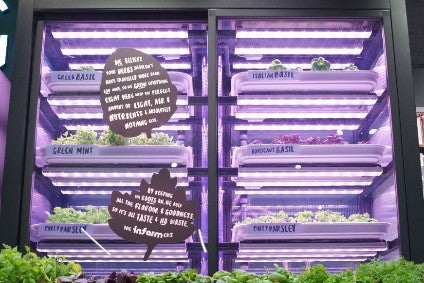 Infarm, the Berlin-headquartered vertical-farming business, is expanding a partnership with Canadian retailer Sobeys with plans for an additional four growing sites in different states for herbs and leafy greens.
Farms will be built in Calgary, Halifax, Winnipeg and Hamilton, with the latter slated to be Infarm's largest growing centre in North America with a growing capacity of 37,000 square feet. They are expected to be completed in 2023.
Infarm entered Canada in 2020 through a partnership with local retailer Empire, which owns Sobeys, Safeway and Thrifty Foods. The business was founded in 2013 by Osnat Michaeli, and Erez and Guy Galonska.
CEO Erez Galonska said: "We're delighted with what has been an extremely positive and successful partnership with the Sobeys family of retailers. This expansion deal represents one of the largest rollouts of any vertical-farming company in North America to date as we aim to offer local, high-quality produce to people everywhere."
Infarm added it expects to increase the range of fresh produce available to customers of Sobeys over the next five years from the current offering of herbs, leafy greens and microgreens. They will include tomatoes, strawberries, peppers, mushrooms, salads and potted plants as the vertical farmer aims to have 100 growing centres by 2025 under the retail partnership with a total capacity of three million square feet.
A spokesperson for Infarm confirmed the company operates in-store fresh produce units and also has separate in-country growing centres to supply retailers: "We employ a hybrid model of farming that can serve retailers directly at the point-of-sale or through a centralised farming set-up that allows us to reach all of the existing stores within a region."
In the case of Sobeys, Infarm's units are installed at around 100 stores located across Vancouver, Victoria, the greater Toronto area, Halifax, Calgary, and Edmonton, the spokesperson told Just Food, adding that the plan is to eventually be in a 1,000 of the retailer's shops, with new sites due to start to come on stream from the fourth quarter.
And in terms of farms, the company has growing operations in Calgary and Edmonton (Alberta), Halifax (Nova Scotia), Hamilton and Mississauga (Ontario), and in Vancouver and Victoria (British Columbia).
Niluka Kottegoda, the vice president of customer experience at Sobeys said: "We received overwhelmingly positive feedback from our customers and our store teams about the current Infarm products grown in our stores. We are thrilled to expand into the Infarm growing centres as they allow us to exponentially offer these great local products to a multitude of communities across Canada all year-round."
In April, Reuters reported Infarm had hired US-based investment bank Goldman Sachs to explore a potential public listing. Approached by Just Food, an Infarm spokesperson told the company it did not "comment on rumours and market speculation".
A month earlier, Infarm announced a top-up of US$100m to its Series C funding. In September, Infarm said the round had initially seen the company raise $170m.
Just Food analysis, June 2021: Indoor farming and the prospects for profitability