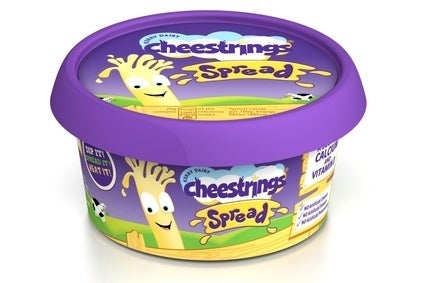 Irish food manufacturer Kerry Group has launched a spreadable version of its Cheestrings product in the UK.
Cheestrings Spread, which hits supermarket shelves in the UK this month, "will target Mums looking for a way to smuggle dairy goodness into their kids' diet".
The spread can be used as a spread, microwaved for a hot snack, or can be mixed with hot dishes.
"As the most frequently purchased cheese snack, Cheestrings is also perfectly placed to expand into a new category and offer a Cheese Spread format from a brand that delivers on taste and quality," said Lee Willet, dairy marketing controller at Kerry Group's UK consumer arm Kerry Foods.
Cheestrings Spread will be available in a 125g tub, RSP GBP1.39 (US$2.34) and a 250g tub RSP GBP2.25.