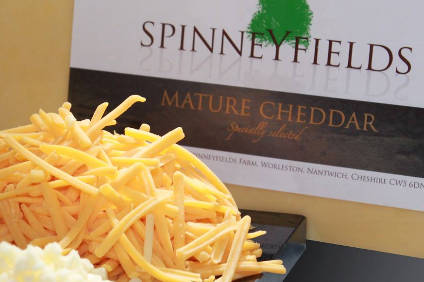 Ireland-based dairy business Ornua said today (25 January) it had signed an agreement to acquire UK cheese ingredients company F.J. Need for an undisclosed sum.
F.J. Need supplies British and Irish cheese ingredients to the foodservice and food manufacturing sectors including sliced, grated and block products.
Ornua, which has been a supplier of Irish cheese to F.J. Need, said the acquisition "will strengthen this important supply channel".
Kevin Lane, Ornua's CEO said the deal, which is subject to the approval of UK competition authorities, "allows us to significantly strengthen our presence in the UK ingredients sector". He added: "The complementary nature of our customer bases and the potential to further scale the business makes this a strong fit for Ornua."
Ornua said the acquisition includes "a well-invested cheese cutting, grating and slicing facility" in addition to a distribution fleet and two brands: Spinneyfields, which includes cheese, packet butter and mayonnaise buckets, plus Giovanni Bisogno pizza cheese.
The acquisition "is central to Ornua's strategy of further strengthening its core businesses in Germany, North America and the UK", the company said.
F.J. Need's cheese production facility makes 16,000 tonnes a year. Ornua said there is "significant potential to expand this capacity to take advantage of the rapidly-growing foodservice market for cheese ingredients both in the UK and in international markets".
Ornua added: "This potential for expansion into new sectors, including leveraging Ornua's existing export routes to market, is a key benefit identified by Ornua in concluding the transaction. F.J. Need's strong competences will also strengthen Ornua's UK business capabilities in the post-Brexit environment."
In a "market report" posted on F.J. Need's website before Christmas, MD Paul Need said expected increases in milk prices would make 2017 "another difficult year" for the firm. Need said cheddar pricing was expected to stay high "until at least the third quarter… but mozzarella will ease towards the end of the second quarter". He added: "Brexit is on the horizon and we could see some volatility in currency, which in turn will affect pricing".
A spokesperson for Ornua, asked if Mr Need's remarks were linked to the reasons for the acquisition, told just-food: "I don't know about that. This kind of deal would have been a long time under discussion."
The acquisition is the latest in a series of investments by Ornua, which said it is "targeting new routes to market for Irish dairy products". The company said it has made "significant capital expenditure" in Africa, China, Germany, Ireland, Saudi Arabia, Spain, the UK and the US in recent years.
In November, Ornua said it was upping the manufacturing capacity of its plant in Germany to meet growing demand for Kerrygold products. Also last year, Ornua snapped up US dairy ingredients business CoreFX Ingredients from local group MCT Dairies.
Earlier this month, Ornua said a tie-up with New Zealand make-at-home yogurt business EasiYo Products would see EasiYo's yogurt mixes made outside New Zealand for the first time.