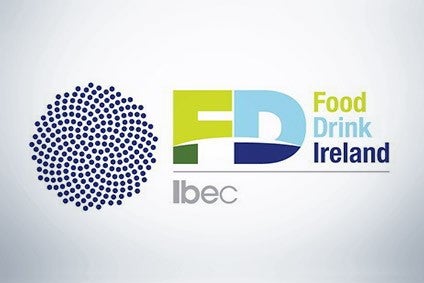 Industry body Food Drink Ireland (FDI) is calling for more targeted support from a fund set up to alleviate problems facing the country's exporters post-Brexit.
More than 40% of Ireland's food exports are sent to the UK and, although a no-deal Brexit scenario was averted thanks to an eleventh hour trade agreement between the UK and the EU, the new regime which came into effect on 1 January means additional costs for food manufacturers seeking to sell their wares over the Irish Sea.
Ireland will receive more than EUR1bn (US$1.21bn) from the EU Brexit support fund in 2021 but FDI has called for targeted support measures for the food and drink sector.
FDI director Paul Kelly welcomed the funding but said: "The Irish food and drink sector is by far the most exposed of any sector in any country in Europe to Brexit. Even with a EU-UK deal, we now face additional paperwork, customs and SPS formalities, transport delays and disruption to delivery schedules.
"All these changes are imposing additional costs on businesses and supports are urgently needed not just to support companies within the food and drink sector, but also the jobs, communities, and downstream suppliers reliant on them, including the farming sector and its longer-term sustainability."
Kelly said Ireland's portion of the Brexit Adjustment Fund should be used to invest in competitiveness "recognising the additional trading costs now materialising post-Brexit, medium-term measures to allow the Irish government to introduce investment aids to support Irish food and drink companies invest in enabling technology, management training and upskilling, plant renewal and expansion, refinancing, market development and innovation to regain competitiveness following single market fracture".
He also called for help to improve export capability, specifically through the introduction of a state-supported export credit insurance scheme to "ensure the growing gap in supply of export credit insurance does not impact on the ability of Irish firms to export".
He also want to see additional funding for direct grant support for innovation, marketing and trade promotion for companies looking to build new markets in the EU and internationally and to ensure state agencies make full use of the new state aid guidelines to fund up to 50% of research and development projects which support future business growth.
FDI has also called for direct connectivity to Continental markets via ferry routes and for support for customs skills to help maintain customs clearance capability.
The Irish government recently announced a scheme for the country's food-processing sector to support manufacturers in the wake of the UK's departure from the EU.
Dublin said it would provide funding worth EUR100m (US$121.6m) through a new "capital investment scheme for the processing and marketing of agricultural products". The Enterprise Ireland agency is managing the initiative and applications open this month.