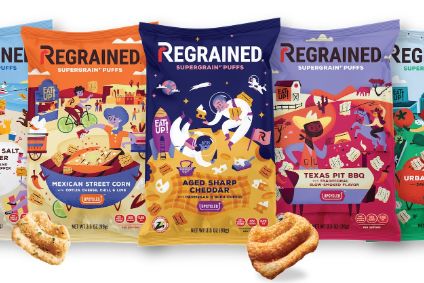 Oisix, the Japan-based online grocer, has invested in ReGrained , a US firm supplying upcycled ingredients to food and beverage manufacturers and a seller of branded products.
The investment will support ReGrained's development of ingredients and help commercialise the products it offers to customers on a business-to-business basis. Financial details were not disclosed.
Dan Kurzrock, ReGrained's co-founder and CEO, said the majority of the company's sales were made through ingredients to food and beverage groups.
ReGrained sells a branded line of puffed snacks in the US to raise consumers' awareness of upcycled ingredients but stopped marketing a nutrition-bar product last year.
Through the deal with Oisix, the puffed snacks will go on sale in Japan. Kurzrock told just-food the investment from the grocer, made through its Future Food Fund venture-capital arm, could help his firm secure new business with food-and-beverage manufacturers in Asia.
"Oisix represents an opportunity for Asian expansion," Kurzrock said. "They're a retailer there and all of their limited partners are from the food manufacturing community in Japan, too. For us, the strategic relevance is that there's a huge opportunity in Asia and Japan, specifically."
He added: "Asia and Europe are the prime areas that are the ripest for opportunity beyond North America, at least initially. Longer term, of course, this model for upcycling should be brought to the global south and to help create local food economies that are wasting less food, creating green jobs, feeding people, fighting hunger – but initially you've got to reach a certain kind of scale and proof of concept."
Kurzrock said ReGrained's strategy centres on a majority of its revenues coming through its business-to-business contracts, initially through ingredients but then through broader "partnerships". At present, ReGrained's flagship upcycled ingredient is called SuperGrain+, which is made from malt left over from beer-making.
"Initially from ingredient sales, starting with the brewers grain and later on this year we are looking to release our upcycled oat product that's made from oat milk residue," he explained. "Then there's a licencing model, too – it's not necessarily licencing, it might be joint ventures or joint operating agreements, but the partnership model of taking our process and putting it at manufacturers around the world."
Asked if he had an appetite to still try to grow ReGrained's consumer-facing products, Kurzrock added: "Warily, yes. We need to be careful of is that it's not taking undue resources because it's expensive and it's difficult to build a brand. We realised in 2020 when we discontinued the nutrition-bar product that it was no longer serving our strategy and it was actually creating drag against our mission.
"We hope with this product [the puffed snacks], it's got much better margins out of the gates and its consumer acceptance seems to be favourable. We'd love to see it grow. We have other products that we could release, like baking mixes, breakfast items and whatnot and so it'll be interesting to see how much we focus on growing the existing products, just releasing smaller runs of other types of innovations to prove application, and generate more of the B2B activity for those product types."
Kurzrock refused to be drawn on ReGrained's annual sales and profits. The firm's existing investors include global ingredients business Griffith Foods and Italy-based food group Barilla.
In 2019, Oisix snapped up Purple Carrot, the US plant-based meal-kit firm, for an initial US$12.8m.