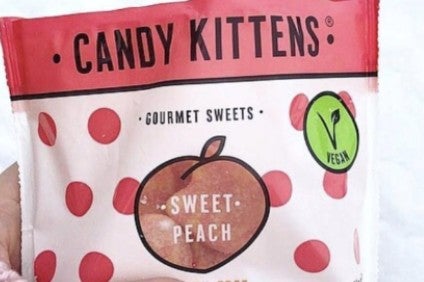 German confectioner Katjes Group has invested further in UK-based vegetarian sweet business Candy Kittens and now holds a majority stake.
Through its subsidiary Katjes International, the company said in a statement today (21 November) it now holds "more than 50%" of the share capital in London-based Candy Kittens with an option to take full control of the business. The latest transaction is expected to close by the end of November.
Katjes first invested in Candy Kittens – set up by Ed Williams and TV personality Jamie Laing in 2012 – early last year. The actual size of the stake was not disclosed at the time other than Katjes saying it was a "significant minority" holding.
Then in August, Katjes issued a statement stating it had acquired a "total of 25% of the share capital" with an option to purchase a further 20% in Candy Kittens, which produces premium gluten-free sweets with no artificial colourings or flavours.
Bastian Fassin, a managing partner of Katjes International, said in today's statement: "With the acquisition of a majority stake in Candy Kittens, we continue to pursue our strategy of investing in strong brands in Europe. With its natural and vegetarian fruit gums for adults, the company is fully in line with the trend and growing significantly faster than the market."
He added that the latest share purchase was partly funded from the proceeds of a recent bond issue.
In its own statement, Candy Kittens said it is aiming to achieve GBP50m (US$64.2m) in sales, compared with the current GBP10m, although the company did not provide a time frame.
Candy Kittens' Williams said: "We are delighted to announce our partnership with Katjes. It symbolises a significant step in the Candy Kittens story, whilst also providing the recognition that validates the hard work and determination our team has demonstrated over the last seven years. I know we have the products and brand to change the game in confectionery, and we couldn't be happier to be working with a company that shares our vision for a more sustainable future."
While Katjes is taking the plunge into UK confectionery, it sold a minority interest in Germany-based chocolate maker Halloren Schokoladenfabrik earlier this year.
But the company has also expanded into other categories through its venture fund Katjesgreenfood with equity stakes in businesses including US plant-based food start-up PigOut, Cologne-based cookie dough firm Sugar Daddies and Berlin-based 'superfood' business The Rainforest Company.