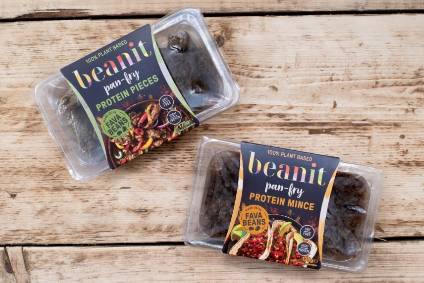 Kavli, the Nordic food manufacturer, has launched Beanit, a meat-free brand it markets in Finland, in another European market.
The company has secured listings at UK grocer Sainsbury's. Two products – protein pieces and protein mince – are on sale today (2 January).
Kavli described the food as "the first fava bean-based protein" on sale in the UK. It touted the short ingredient list of the products, with each "made with just three ingredients – fava beans, pea protein and water".
Paul Lewney, the managing director of Kavli's UK operations, added: "Demand for a plant-based, soy-free protein that tastes great has increased significantly over the last few years, with recent research now indicating that a fast-growing 14% of the population now follows a flexitarian diet, with millions more following a vegan or vegetarian lifestyle. We're really proud of our delicious protein pieces and protein mince – they're packed full of flavour and bring something a little different to the plant-based arena."
More than 300 Sainsbury's stores are stocking the Beanit products. The pieces and the mince, which serve two, are both on sale in 175g packs priced at GBP3.00.
In March last year, Kavli struck a deal to acquire Verso Food, a supplier of vegetarian foods based in Finland. Kavli entered into plant-based foods in 2013 when it snapped up another Finnish business, Planti, which markets oat- and soy-based products.
In the UK, Kavli counts cheese brand Primula and pâté supplier Castle MacLellan Foods among its assets.