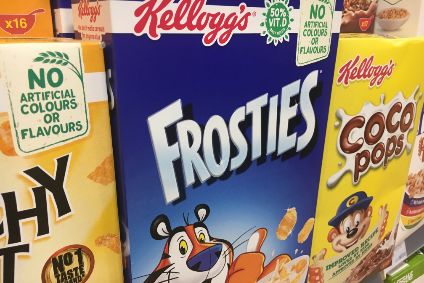 Long-term Kellogg critic Prescience Point Capital Management has issued a negative update on the US food giant.
Back in April Prescience, a US-based investor, accused Kellogg of "using accounting gimmicks and financial engineering to mask years of falling sales, poor performance and self-serving management decisions".
In a hard-hitting, 35-page report on the cereal and snacks heavyweight, it said: "We believe Kellogg will reduce or miss on 2018 guidance targets and cut its dividend or lose its credit rating."
Now Louisiana-based Prescience is pointing out that its predictions, at least in part, were correct.
"On 10/31/18, part one of our thesis was proven correct when Kellogg slashed its FY2018 adjusted EBIT and earnings growth guidance. Part two continues to play out", it said today.
It added: "Kellogg's explanations for the guidance reduction suggest it is not being forthright with investors. Prescience Point's analysis indicates the reversal of years of extended DSOs will wreak havoc on FY'2019 sales and profitability."
Prescience said it finds executive departures preceding poor results "highly concerning" and attacked the company's financial position.
"Prescience Point's research shows that even under optimistic assumptions, Kellogg's free cash flow is barely sufficient to cover its dividend and other short-term obligations. We believe Kellogg's reduction in share repurchases and recently announced intention to sell off assets is being done out of necessity and in anticipation of significant cash flow deterioration; shoring up liquidity and buying the company more time in terms of its ability to fund its dividend," it said.
Last week, Kellogg said it was weighing up the possible sale of a clutch of snacks assets in North America as part of moves to "align resources around the biggest opportunities for growth".
Prescience believes Kellogg's efforts are "too little too late" and it is urging management to be transparent with investors.
It believes Kellogg's shares could fall by 35% from current levels.
"According to our report, Kellogg's management misjudged the structural decline in demand for sugary snacks and breakfast cereal as cyclical, and turned to aggressive accounting and massive cost cuts – short-sighted actions that we believe are likely to result in enormous problems in the future. Such actions are only temporary stopgaps, as the company faces headwinds in 2018 and beyond," it said.
"Prescience Point believes Kellogg will be forced to cut its dividend or risk being downgraded by the major credit ratings agencies."
Eiad Asbahi, founder and portfolio manager of Prescience Point, said: "Unfortunately for shareholders, Kellogg appears to be misdirecting and is taking actions that will in effect result in even less transparency.
"We believe Kellogg's guidance reduction is just the tip of the iceberg, as the reversal of stuffed channels and extended DSOs will continue to wreak havoc on revenue growth expectations."
just-food has asked Kellogg for a response.