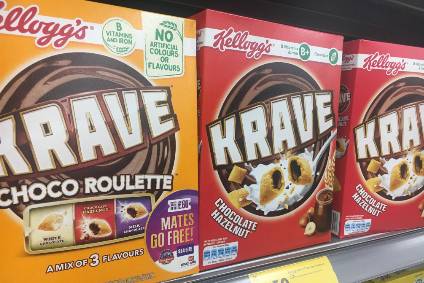 Kellogg today (30 July) raised its forecasts for key sales and profit metrics in 2020, with the US cereal and snacks major reporting first-half revenue and earnings that came in above its expectations.
The Pringles and Krave owner saw its sales rise more than 8% on an organic basis in the first half of 2020, with sales of cereal faring well amid growing demand for food to consume at home.
First-half operating and earnings per share increased both on a reported and adjusted basis.
Chairman and CEO Steve Cahillane said: "Our first-half performance puts us in the position to substantially increase our investment in the business during the second half, while still delivering more net sales, operating profit, earnings per share, and cash flow for the full year than we had originally planned. This second-half investment is intended to bolster more brands in our portfolio, hone important capabilities, and enhance our competitive position, so that we emerge from this crisis even stronger."
Kellogg now expects its sales to grow by around 5% on an organic basis in 2020, up from its previous forecast for growth of 1-2%.
The Frosties owner said its "currency-neutral adjusted operating profit" and "currency-neutral adjusted earnings per share" are still expected to decline but at a lower rate than had been thought.
Kellogg's currency-neutral adjusted operating profit is now projected to decline by approximately 1%. The company said the result would still be "weighed down" by the absence of assets sold to Ferrero last year but the new forecast compares to a previous projection of a fall of 4%.
Similarly, Kellogg's currency-neutral adjusted earnings per share are now estimated to decrease by around 1%, up from the company's previous guidance of a decline of 3-4%.
In the six months to 27 June, Kellogg's reported net sales fell 1.5% on the back of the deal with Ferrero. On an organic basis, net sales were up 8.6% at US$7.03bn.
Reported operating profit grew 24.1% to $966m. Net income attributable to Kellogg was $698m, against $568m a year earlier.
Kellogg's shares were up 2.9% in pre-market trading in New York at $73 at 08:46 GMT.