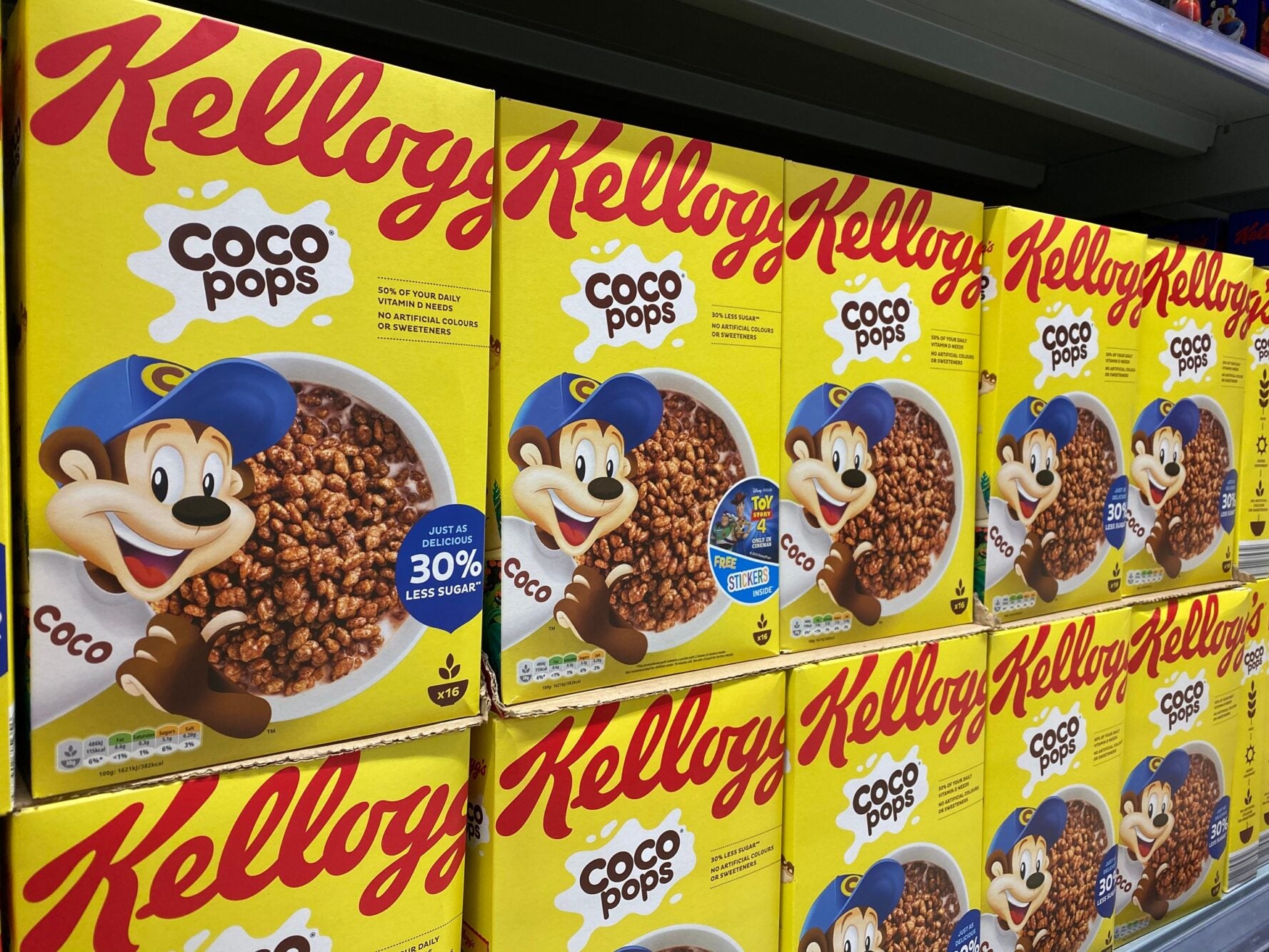 US breakfast cereal giant Kellogg has started legal action against the UK government over its plans to restrict the promotion of foods deemed to be high in sugar.
The Coco Pops maker argues the Government's calculations for breakfast cereal fail to consider the nutritional value of the milk added to the product.
It says independent market data shows cereals are eaten with milk or yogurt in 92% of cases.
The Government's new rules, which are intended to help tackle childhood obesity, come into force in October.
Under the new regulations for England, retailer promotions on food and drink high in fat, salt or sugar will be restricted.
Products covered by the restrictions will not be allowed to be featured in key locations such as checkouts, store entrances, aisle ends and their online equivalents.
Kellogg said it supports the Government's obesity strategy and efforts to tackle obesity, as demonstrated by its own moves to reduce the sugar and salt in its cereals.
"We just believe the formula used to measure the nutritional value of food is wrong when it comes to breakfast cereals," the Rice Crispies owner said, pointing to the country's nutrient profiling model, which ranks foods based on their nutritional make-up.
"The nutrient profiling model works like a virtual set of scales and calculates the nutritional value of a food by weighing up things like protein and fibre against things like salt and saturated fat. Our concern lies with this formula and its application to breakfast cereals only.
"We believe the application of the formula is not consistent with the way the vast majority of people eat cereal. Currently, it scores cereals based on dry weight and does not take into account that they are almost always eaten with milk. In fact, 28.4% of all milk consumed in the UK is with breakfast cereal.
"That matters as the formula does not take account of the nutritional elements added when cereal is eaten with milk."
Kellogg, which also markets brands including Crunchy Nut Corn Flakes, said a judge has accepted that its case has merit and has agreed that it can proceed to the next stage, which is a hearing in court.
It said: "Seeking a judicial review isn't something we want to do, and we've never done anything like this in the UK before. Our goal has always been to try to resolve this constructively.
"But we feel we're now in a place where it is important for us to stand up for what we believe in."
Chris Silcock, Kellogg's UK managing director, added: "We've tried to have a reasonable conversation with the UK Government over the past 12 months about making this change, but to no avail.
"So, we now find ourselves doing something which we really didn't want to have to do which is to go to court to get the formula changed so that it reflects how people eat our food in real life."
In a statement sent to Just Food, a spokesperson for the UK's Department of Health and Social Care, said: "Obesity costs the NHS [National Health Service] more than GBP6bn (US$7.54bn) a year and is the second biggest cause of cancer in the UK.
"Breakfast cereals contribute 7% – a significant amount – to the average, daily, free-sugar intakes of children. Restricting the promotion and advertising of less healthy foods is an important part of the cross-government strategy to halve childhood obesity by 2030, prevent harmful diseases and improve healthy life expectancy, so we can continue to level up health across the nation.
"This will save the NHS billions of pounds, helping to put it on a sustainable financial footing as we work to recover and reform the healthcare system."
UK broadcaster the BBC said it understands the Government is determined to fight Kellogg's legal case as it might allow other producers to suggest ways their products' fat, sugar and salt content could be reduced if served with other ingredients.
Anna Taylor, executive director at UK think tank The Food Foundation said: "Kellogg's wants to continue to heavily promote sugary cereals so they've decided to take the government to court on an absurd claim around its new regulations. Commercial greed trumps social value. It's a very short-sighted and destructive move. We already spend over GBP6bn a year treating obesity-related ill health and these costs are set to increase as obesity levels continue to rise. This is money we just can't afford to be wasting whilst we're in the middle of a cost-of-living crisis."