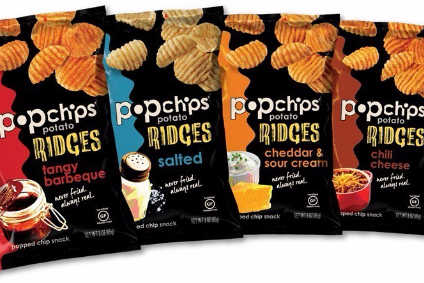 KP Snacks in the UK is moving production of its better-for-you Popchips brand in-house to a new manufacturing facility located in the eastern English county of Leicestershire.
Production of Popchips had previously been farmed out to co-manufacturers in the UK and Belgium but will now reside in the 1,800 square-metre facility in the town of Ashby-de-la-Zouch, a plant owned by KP. Around 24 jobs are being created by the move.
Both KP and Popchips are owned by Germany's Intersnack Group. However, Intersnack only owns the rights to Popchips in Europe having acquired the UK-based subsidiary in 2018 from the US parent. KP runs the business in the UK and Europe.
In North America, where Popchips originates, the business is owned by private-equity fund VMG, which purchased that area of the operation last year from the snack company's board and investment firm Verlinvest.
Meanwhile, Popchips has been given a new pack design across Europe effective from the end of October, while plastic in the packaging has been reduced. "KP Snacks estimates that 23 tonnes of material will be saved, the equivalent of over five million fewer packs per year", it said in a statement, adding that the aim is to make all plastic film packaging fully recyclable by 2025.
The new packaging will be rolled out between November and January.