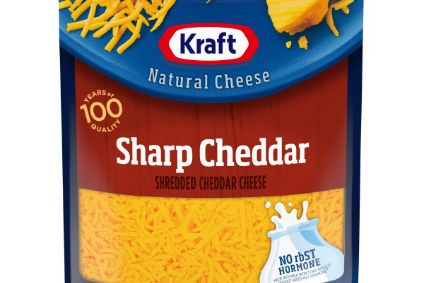 Lactalis, the French dairy major, has struck a deal to buy a clutch of cheese brands from Kraft Heinz for US$3.2bn.
Brands including Breakstone's and Athenos form part of a multi-faceted agreement that will almost double Lactalis' sales in the US. The deal underlines how Kraft Heinz, which also today (15 September) announced a wider "transformation plan" to grow more consistently, is looking afresh at the future of part of its product portfolio.
The proposed transaction is expected to close in the first half of 2021, subject to regulatory review.
In the US, Lactalis markets a range of dairy products, including President butter, Siggi's yogurt and Galbani cheese.
The deal includes what Kraft Heinz calls its "natural, grated, cultured and specialty cheese businesses" in the US, its grated cheese unit in Canada and select international cheese assets.
The Knudsen, Polly-O and Hoffman's brands will change hands, as will the US rights to Cracker Barrel. Lactalis is also buying the rights to Cheez Whiz outside the US and Canada.
Kraft Heinz will keep the Philadelphia cream cheese, Kraft Singles, Velveeta processed cheese and Cheez Whiz businesses in the US and Canada.
It will also retain the mac-and-cheese businesses under the Kraft, Velveeta and Cracker Barrel brands worldwide, as well as its Kraft Sauces business.
The two sides have agreed on a "perpetual license" for the Kraft brand in "natural, grated and international cheeses", as well as on Velveeta in "shredded and international cheeses", Kraft Heinz said.
Under the terms of the deal, Kraft Heinz will sell production facilities located in Tulare in California, in Walton, New York and in Wausau, Wisconsin. Around 750 employees will be transferred from Kraft Heinz to Lactalis.
"Our group has been present in the USA for more than forty years and this operation represents a new significant step for Lactalis," Emmanuel Besnier, the French group's president, said. "The Kraft brand, more than a century old, is emblematic of the cheese sector across the Atlantic. Beyond consolidating our positions in the cheese sector, our objective will be to develop the internationalisation of these brands in many regions around the world in synergy with our international establishments."
Speculation over the future of Breakstone's dates back to 2012 when Kraft Heinz was then Kraft Foods Group. However, in March last year, CNBC said Kraft Heinz had hired Royal Bank of Canada to review options for Breakstone's, only to reportedly put the plan on hold four months later.
"We believe these cheese and dairy businesses will thrive in the hands of a global dairy company like Groupe Lactalis," Kraft Heinz CEO Miguel Patricio said today. "At the same time, the transaction will enable us to build sustainable competitive advantage in businesses where we have stronger brand equity, greater growth prospects and can use our manufacturing scale and consumer-based platforms approach. This is a great example of agile portfolio management at work."
Kraft Heinz said the cheese businesses being sold contributed around $1.8bn to its net sales for the twelve months to 27 June. The deal valuation represents an "approximate 12 times multiple of LTM adjusted EBITDA" for the stand-alone business, the company added. Kraft Heinz said it expects to use the proceeds to "primarily to pay down debt".
Once the new assets are on-board, Lactalis' sales in the US will be $3.5bn, it said, making the country its second-largest market after France.
In 2018, Kraft Heinz sold its Canadian natural cheese business to Parmalat, the Italy-based dairy company majority-owned by Lactalis, for CAD1.62bn (then US$1.23bn).
just-food analysis: "This plan puts the future in our hands" – key takeaways from Kraft Heinz's investor day