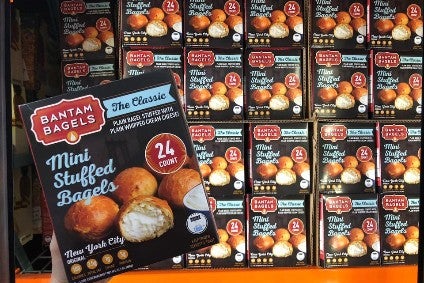 US food group Lancaster Colony is building a new automated production line for its recently acquired Bantam Bagels business and also expanding capacity at a frozen products plant.
Ohio-based Lancaster Colony, which operates in retail and foodservice channels, bought Bantam Bagels last year for US$34m, along with Omni Baking, a contract manufacturer of fresh and frozen products.
Announcing fourth-quarter and full-year results yesterday (27 August), chief executive Dave Ciesinski said that "although these two acquisitions are creating short-term dilution on our business, we believe both will serve as important cornerstones for our long-term growth".
Bantam Bagels produces frozen mini stuffed bagels and pancakes from its facility in New York. Ciesinski said on a follow-up call with analysts yesterday that the new high-speed automated line will be completed by the end of the calendar year but until then, what is currently a generally manually-operated business, is expected to be a drag on operating income.
In the fourth quarter, "we sustained an operating loss of approximately $1.5m as we invested in the future of the business [Bantam Bagels]", the CEO added. However, the investment "will significantly improve the margins on the business and set it up for essentially long-term and profitable growth", Ciesinski said.
Lancaster Colony's product offering in the retail segment includes the Marzetti range of dips and dressings, breads and croutons from New York Brand Bakery, and bread rolls under the Sister Schubert's line.
Finance chief Tom Pigott, who only joined the firm at the start of April, said on the same call that property additions in fiscal 2019 totalled $71m, with part of the capital expenditure going to fund the expansion of its frozen dinner roll plant in Horse Cave, Kentucky. That project is expected to be completed in fiscal 2020, he said.
Pigott added: "The company will continue to invest to support growth in the foodservice segment and invest in productivity projects that drive strong returns. 2020 capital expenditures are expected to remain elevated at the $80m to $100m level."
Included will be a further $33m for the completion of the expansion at Horse Cave, he said.
Next year, Lancaster Colony expects a pick up in inflationary headwinds after generally flat commodity costs in 2019, Ciesinski said, with most of the impact likely to be felt in the second half.
On the financial front, the company reported a 6.9% increase in annual net sales to $1.3bn in the year to 30 June, and a 4.5% gain when excluding sales from Bantam Bagels and Omni Baking.
Operating income climbed 11% to $190.9m, while net income also rose 11% to $150.5m.
Ciesinski indicated the integration of both Bantam Bagels and Omni Baking will take time, although progress is being made.
The CEO added that Bantam Bagels "continues to grow very rapidly both in retail and foodservice". But Lancaster Colony faced a headwind of $5m with respect to Omni Baking during the year, and is expected to continue in "that low- to mid-single digit million dollar range for the next two quarters".