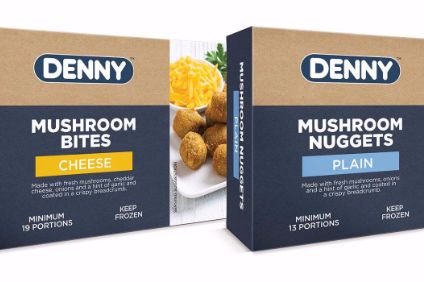 South Africa-based food company Libstar Holdings has issued a profit warning because of what it says was a nationwide oversupply of mushrooms and the impact from lower margins linked to its October merger with Sonnendal Dairies.
The owner of mushroom supplier Denny said for the six months ended in June Libstar expects headline earnings per share and earnings per share from continuing operations to be some 44% to 56% lower than the 25 South African cents announced for the year earlier reporting period, translating to a drop of between 11 and 14 cents.
Libstar also cited its recent public offering of shares on the Johannesburg exchange as another reason for the downgrade. In April, the company sold ZAR1.5bn (US$123.7m at the time) of shares, consisting of new shares and also those from what it said at the time were "certain" existing shareholders.
Private-equity fund APEF Pacific Mauritius, or Abraaj Group, bought a 71% controlling interest in Libstar in 2014, but Abraaj itself is also currently facing financial difficulties. And in an April statement, Libstar said the government pension fund, Public Investment Corporation, owned 19.36% of the firm and the company's management 9.71%.
In terms of earnings from discontinued operations for the six months through June, Libstar now expects to book a loss in headline earnings per share of 1.2 cents to 0.8 cents, compared to a loss of 2 cents a year earlier. And for earnings per share, it sees a loss of 1.3 to 0.7 cents versus the 3 cent-loss in the corresponding period.
"In a challenging trading environment, Libstar has shown strong revenue growth during the reporting period. However, gross profit margins were negatively impacted by a national oversupply of fresh mushrooms and the lower-margin Sonnendal Dairies business acquisition, which has enhanced the group's yoghurt manufacturing capabilities," Libstar explained in a statement.
It went on to say that the earnings downgrade included the effect of the issue of 120m shares at ZAR12.50 each from the public offering, which increased the number of issued shares to 523.3m from 468.9m.
Adjusted EBIT for the period is expected to be between ZAR310m and ZAR320m,compared to ZAR319.4m a year earlier, after adjustments for "amortisation of customer contracts, unrealised foreign-exchange movements, share appreciation rights, as well as other non-operating expenditure".
Adjusted EBITDA is seen between ZAR385m and ZAR400m, from ZAR381.3m a year earlier.
Final results are expected to be published on 4 September.