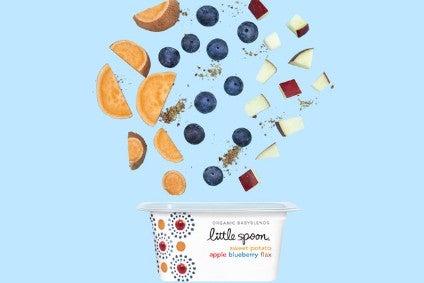 Organic baby-food and kids' meals start-up Little Spoon, which sells its wares on a direct-to-consumer platform, has notched up another round of funding.
The California-based business has received US$44m via a Series B cash injection from returning investors Valor Equity Partners in Chicago and Kairos HQ in New York.
Founded four years ago, Little Spoon said the financing will help expand its team, having grown this year from 10 people to a staff of 33, and to foster new product development.
"The approach Little Spoon has taken to build the fastest growing DTC baby and kids food brand is unique," Jon Shulkin, a board member at the company and a partner at Valor Equity, said in a statement. "Rather than use the same, tired playbook for building a DTC brand they've managed to cultivate a community and movement around making quality nutrition for kids accessible and parenting easier."
Little Spoon supplies what it calls "nutrition solutions" for toddlers and kids in the US, including baby foods, vitamins and natural remedies. The company introduced its Plates children's meal brand last year and its product line-up also includes organic purees under the Babyblends brand, which are all non-GMO and free-from preservatives, additives and artificial sugars.
Co-founder and CEO Ben Lewis said: "We created Little Spoon so that parents didn't need to choose between what's convenient and what's healthy. It's humbling to be trusted by so many families across the US, starting with many baby's first bites."
Earlier this year, Little Spoon announced it had secured $22m in funding led by Valor Equity, its first investment in the firm, and from long-standing investor Kairos. It tapped $7m in 2019 from Kairos and UK investor Vaultier7, which returned in this year's earlier round.