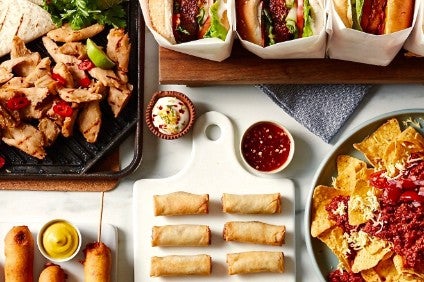 The Livekindly Collective , the US-based meat-free firm, has added another brand to its portfolio with the acquisition of No Meat , the branded alternative-protein line owned by UK frozen-food retailer Iceland Foods .
No Meat's 100% plant-based products include the No Bull burger, No Porkies sausages and burgers and No Chick fillets and strips. The products are available at Iceland stores, as well as Asda, the UK's third-largest grocer, and through online retailer Ocado.
Financial details were not shared by Delaware-based Livekindly, which has the Zurich investor Blue Horizon Ventures as a principal shareholder.
Domenico Speciale, the general manager for Livekindly in the UK, said: "This acquisition is very complementary to our current portfolio, further strengthening our position in the frozen sector of the fast-growing plant-based meat category. This acquisition is a big step in delivering our mission of making plant-based food the new norm."

No Meat joins other alternative-protein brands in the Livekindly portfolio such as The Fry Family Food Co. in South Africa, LikeMeat in Germany and Oumph in Sweden, while the company also operates a digital media platform Livekindly Media.
Livekindly is led by chairman and chief executive Kees Kruythoff, who was formerly at consumer goods giant Unilever . Its founders include Roger Lienhard, who sits on the board of directors and is also the founder of Blue Horizon. And Jodi Monelle, the CEO and founder of Canada-based Livekindly Media.
Kruythoff added: "Bringing No Meat into the Livekindly Collective family as a mission-aligned partner was a natural next step for us. Its strategy to meet the demand of consumers for healthier and more environmentally-friendly vegan products mirrors our own commitment to protect the planet. It is aligned with our strategy to scale rapidly and transform the current global food system."
No Meat's portfolio also features No Cheese pizzas, pasties and macaroni cheese, along with No Moo dairy-free chocolate puddings and strawberry cones.

Andrew Staniland, a trading director for frozen foods at Iceland, said: "We are absolutely delighted to be partnering with Livekindly Collective both to bring the No Meat brand to new consumers globally and to significantly expand Iceland Foods' plant-based product offering in the UK.
"Our offer within the UK's fastest-growing food market will be further strengthened when we begin to sell Livekindly Collective's existing brands – Oumph , LikeMeat and Fry's Family Food Co. – in Iceland and The Food Warehouse stores across the UK and Ireland from April 2021."